Maynard Represents AAA Cooper Transportation in its Acquisition by Knight-Swift Transportation Holdings, Inc.
07.06.2021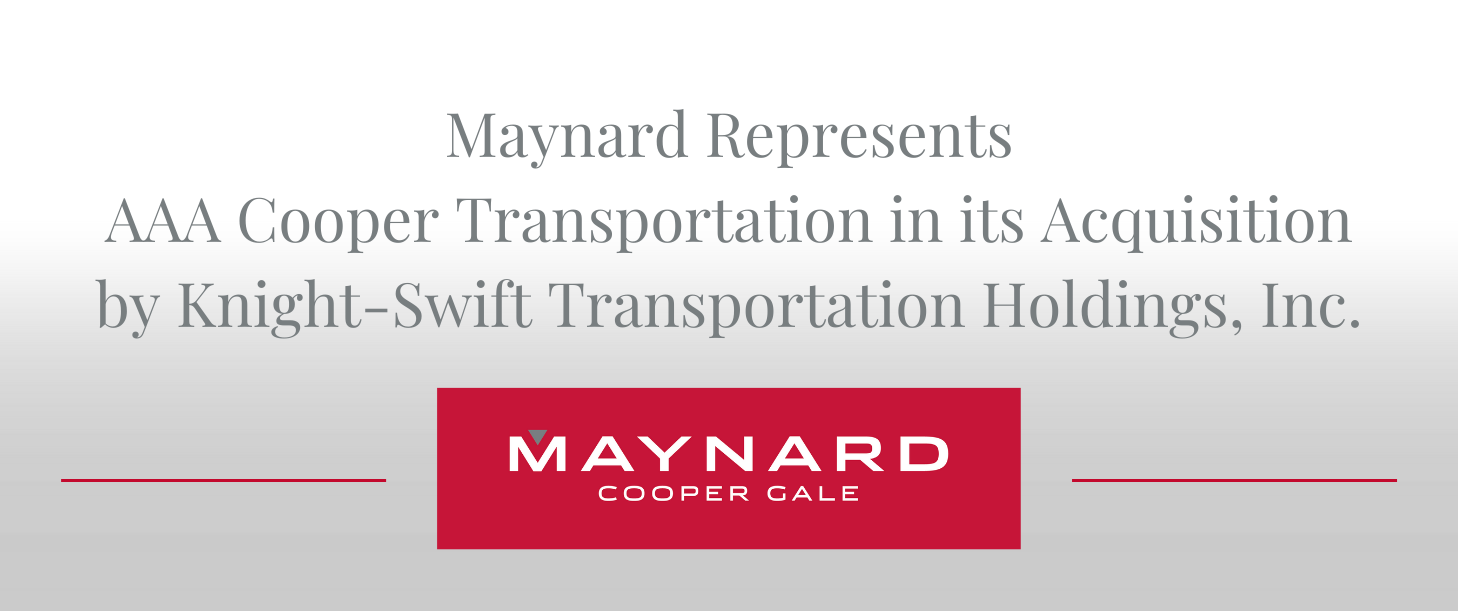 Maynard & Gale represented AAA Cooper Transportation, a leading less-than-truckload ("LTL") carrier, in connection with its sale to Knight-Swift Transportation Holdings, Inc. (NYSE:KNX). The enterprise value of the transaction is $1.35 billion and makes a significant impact on Knight-Swift's growth platform in the LTL space. AAA Cooper will continue to grow and operate as an independent company, headquartered in Dothan, Alabama, with terminal doors strategically located across the southeastern and midwestern United States. Knight-Swift Transportation Holdings, Inc. is a provider of multiple transportation and logistics services to customers throughout North America and operates the country's largest tractor fleet.
The Maynard transaction team was led by Greg Curran, John Dulin, and Brad Wood, with Trice Stabler, Jon Mills, and Adrienne Wimberly Hale. Specialists on the deal team included Hardwick Walthall (Tax), Beth Beaube and Virginia McKibbens (Employee Benefits), Tim Gregg and Lori Metrock (Securities), Mel McElroy (Real Estate), Chris Williams (Environmental), Josh Bennett (Labor and Employment), and Brandon Browning and Starr Drum (Intellectual Property). Knight-Swift was represented by the Scudder Law Firm, LLO of Lincoln, NE.
To read more: https://www.businesswire.com/n... or view as a PDF.
About Maynard Nexsen
Maynard Nexsen is a full-service law firm with more than 550 attorneys in 24 offices from coast to coast across the United States. Maynard Nexsen formed in 2023 when two successful, client-centered firms combined to form a powerful national team. Maynard Nexsen's list of clients spans a wide range of industry sectors and includes both public and private companies.
Media Contact
Tina Emerson