Maynard Represented Southern Research in $80 Million Sale of Engineering Division to Kratos Defense and Security Solutions
05.25.2022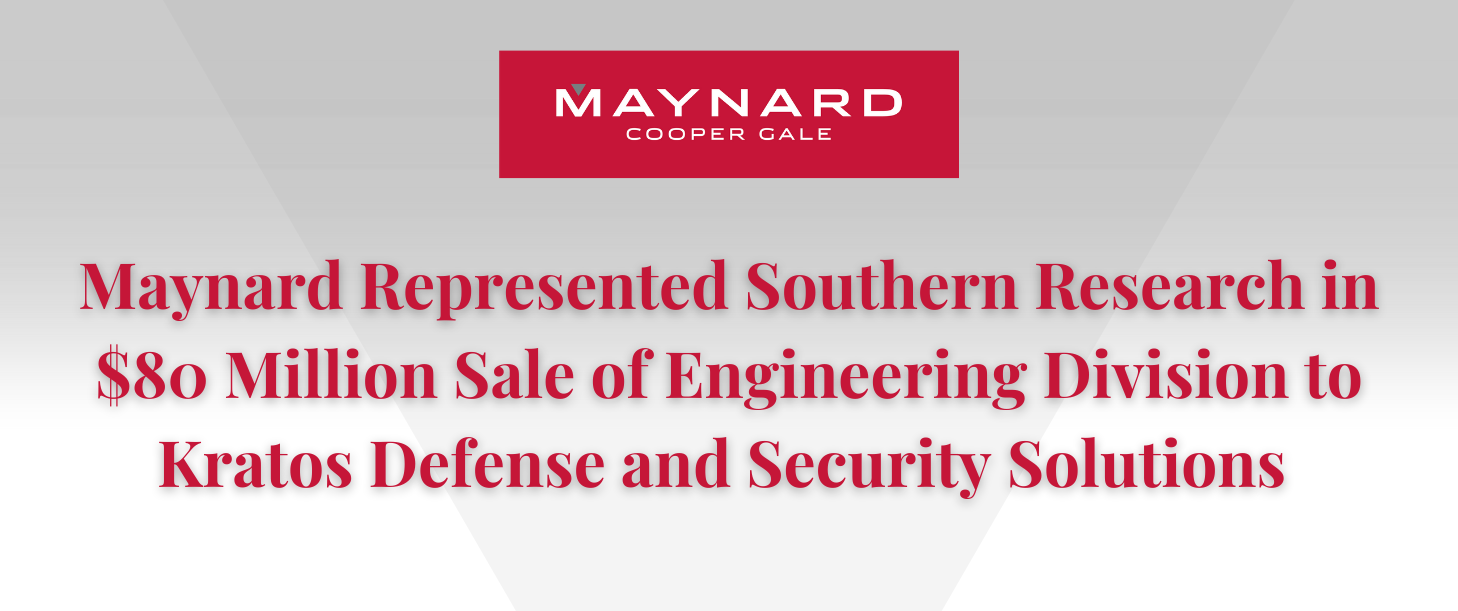 Maynard is proud to have represented Southern Research in the sale of their engineering division to Kratos Defense and Security Solutions in a carve-out transaction valued at $80 Million. Southern Research's Engineering Division is now Kratos SRE within the parent company's defense and rocket support division. Based in Birmingham, Alabama, the division assists customers in developing and modeling materials involving hypersonic, space, missile, missile defense, strategic deterrence, propulsion systems, and energy applications.
The team was led by Mike Johnson, and the main transaction team was Mike Johnson, Andy Watson, Jonathan Mayhall, Haley Stencel, and Noah West, with Andy and Haley focusing on the significant government contracting pieces. Brad Cherry handled issues relating to Southern Research's public financing. Maggie Cornelius and Lori Metrock provided support on public securities. Chris Smith, Spencer Newman, Matt Russ, and Jonathan Jenkins provided additional support.
Maynard's Corporate and Government Solutions Groups frequently work in tandem to provide M&A services to government contractors. Our Gov Con M&A deal teams have counseled numerous high-tech, IP, and engineering organizations through exits across a broad range of values.
About Maynard Nexsen
Maynard Nexsen is a full-service law firm with more than 550 attorneys in 24 offices from coast to coast across the United States. Maynard Nexsen formed in 2023 when two successful, client-centered firms combined to form a powerful national team. Maynard Nexsen's list of clients spans a wide range of industry sectors and includes both public and private companies.
Media Contact
Tina Emerson