Overview
Our clients are inextricably tied to the global economy. We represent US businesses with a global supply chain, and companies in the United States who are making, growing and developing exports for consumers around the globe. Maynard Nexsen also routinely advises non-US companies seeking to invest or do business in the United States, and US clients setting up operations abroad. Within this trade and investment practice, our attorneys assist in the movement of companies, capital, people, goods, services and intellectual property around the world, while mitigating risks associated with cross-border activities. We draw from decades of economic development, government relations, international tax, immigration, global commercial, financial and regulatory practices to provide seamless advice to both seasoned global competitors and those just dipping a toe into cross-border commerce.
Complementing our US-based team in 20+ domestic offices are affiliated firms of local lawyers on 6 continents, in the 75+ largest commercial centers of the world.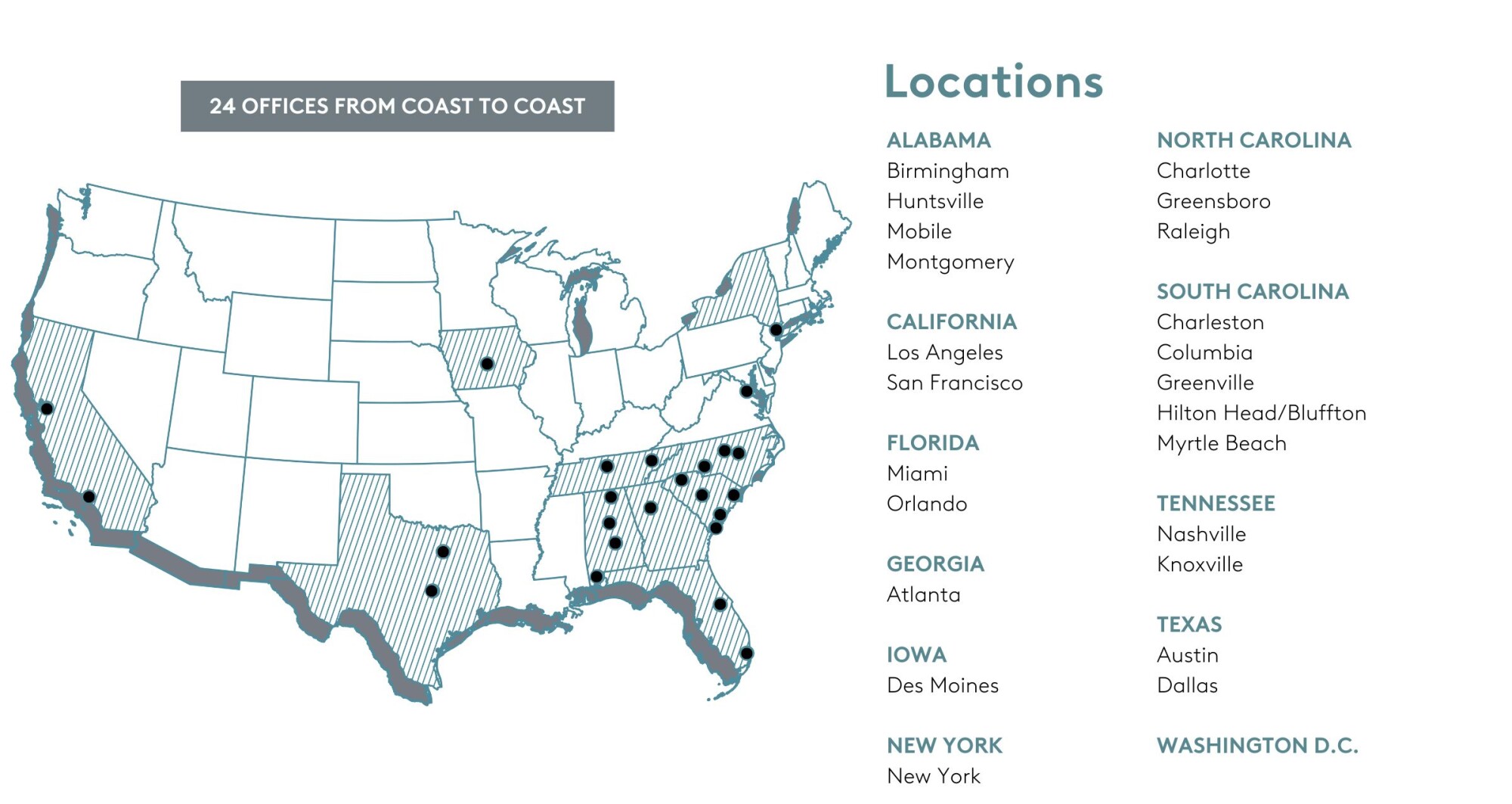 Foreign Direct Investment
Given that in some of our markets almost 50% of out-of-state investments come from overseas, our economic development lawyers have represented Foreign Direct Investors from around the globe. In addition to traditional incentives advice, our team creates tax-advantaged structures that facilitate the transfer of capital, intellectual property and key personnel to the United States in support of their investment. Our NP Strategy arm of public relations professionals assist with announcements and groundbreaking ceremonies, often attended by high-ranking politicians. Our SHED Consulting Group offers site selection and incentives consulting services. From site selection and incentives calculations, through construction and training a workforce, to key transfers of equipment and personnel, to regulatory permitting and compliance, and through commissioning and operations, our lawyers provide legal and practical guidance based on decades of experience.
U.S. Regulatory Matters
Maynard Nexsen's Sanctions and Import / Export Controls practice routinely advises clients across a variety of industries on compliance with the Department of State's International Traffic in Arms Regulations (ITAR), the Department of Commerce's Export Administration Regulations (EAR), and sanctions laws administered by the Department of the Treasury's Office of Foreign Assets Control (OFAC). Similarly, we assist clients with import and customs matters involving Customs and Border Protection (CBP), Immigration and Customs Enforcement (ICE), and other government agencies.
We "right size" sanctions and import / export controls solutions for all types of clients, from start-ups to non-profits to multinational publicly traded companies. We frequently assist with export and import classification matters including Commodity Jurisdiction requests, self-classification, formal Commerce Department classification, and tariff classification / duty rate. Likewise, we advise clients on country-of-origin determinations and marketing requirements, including helping government contractors ensure their products and services meet the requirements of potentially applicable laws such as the Buy American Act and the Trade Adjustments Act.
Our lawyers also assist with national security regulatory matters, including anti-money laundering laws and regulations, compliance with the Foreign Corrupt Practices Act (FCPA) and related anti-corruption laws, and counseling and representing parties before the Committee on Foreign Investment in the United States (CFIUS).
Many other countries impose similar legal controls on the export of goods from their jurisdictions, while international trade agreements often include additional import, export and trade regulations that companies must comply with. Failing to observe export control laws and international sanctions in the United States and abroad can have severe consequences for companies, including loss of export privileges, reputational damage, criminal and civil fines, and even imprisonment.
Global Supply Chains
We routinely help US companies build out their supply chains; we can introduce key partners overseas and trade show opportunities in numerous foreign markets. We can tap into a worldwide network of due diligence experts and evaluate both terms of sale and whether financing and insurance products may be needed to supplement a proposed commercial relationship.
The United States and many other countries prohibit the importation of products that are made or comprised of inputs created through forced or child labor. We assist companies evaluating human rights and forced labor in their supply chains, including compliance with Section 307 of the Tariff Act, the Uyghur Forced Labor Prevention Act, EU and UK supply chain regulations, modification and revocation of Withhold Release Orders (WROs), release of detentions, implementing forced labor and supply chain audits and statements, drafting forced labor compliance programs, and counseling in relation to suppliers and other third parties.
Global Mobility
Simply, our immigration attorneys work to move key personnel across borders for a variety of purposes including research and development, joint ventures, market entry or expansion and re-shoring. Our attorneys also assist with compliance and investigations, outsourcing and offshoring, joint ventures, mergers and acquisitions, structuring the hiring and retention of foreign labor, remote working, compliance with trade agreements, and business formation and structuring in support of global mobility needs.
Importing into the United States and Relief from Certain Foreign Imports
Seamless entry of goods into the United States is a priority for all our clients. Proper preparation and documentation are critical: including appropriate valuation of goods, proper classification and country-of-origin determinations, pre-determined drawback, use of free trade zones, a thorough understanding of the benefits of the United States-Mexico-Canada Agreement (USMCA) and other free-trade agreements, and other assistance with: tariff preference programs, duty recovery, audits, internal investigations, security and compliance programs, seizures, and penalty actions.
The almost 300 Foreign Trade Zones in the United States afford importers a number of advantages – many of them financial – when bringing goods into the US through these zones. We introduce clients to relevant preexisting zones and create subzones as necessary.
In some cases, imported products cause harm to domestic manufacturers. Trade remedies are available to mitigate this harm, including the imposition of antidumping and countervailing duties. We routinely assist clients with issues arising under Sections 201 and 301 of the Trade Act, Section 232 of the Trade Expansion Act of 1962, and other legislative and international agreements that afford relief to impacted domestic industries.
Product Safety and Liability
Many foreign-based companies design and manufacture products for distribution and sale in the United States. These products can range from large, sophisticated industrial machinery to innocuous household or personal items. It is, therefore, always essential for foreign manufactures to comply with U.S. product safety laws and be aware of U.S. product liability laws. The U.S. government routinely enacts and enforces product safety regulations and requirements across a wide array of types of products. There can be significant penalties and other negative consequences for failing to comply with applicable product safety requirements. This is an area in which a reasonable investment up-front can avoid or mitigate serious problems in the future. Maynard Nexsen can help you understand, and comply with, the safety regulations and requirements applicable to your type of product – or help navigate you through a compliance problem if one arises.
The U.S. also has a well-developed and robust product liability litigation system, which comes into play when and if a person, or group of people, are injured by your product. These kinds of cases can be complex and lengthy and involve significant demands upon the time and attention of a business and its personnel. If not resolved, these cases typically are decided in a trial before a jury, with the outcome uncertain. Maynard Nexsen's experienced product liability attorneys can guide you through this entire process, and also assist with preventive-planning that can help improve your position should you become the target of a product liability lawsuit. Foreign clients often find the intricacies of the U.S. product liability litigation system frustrating and challenging – and we can help.
Compliant product labeling is of paramount importance when introducing products into the United States market. Accurate and comprehensive labels not only provide consumers with essential information about the products they purchase but also help them make informed choices, particularly when it comes to food, pharmaceuticals, and other consumables. Moreover, regulatory agencies like the Food and Drug Administration (FDA) and the Consumer Product Safety Commission (CPSC) rely on compliant labeling to enforce safety standards and protect public well-being. Non-compliant labeling can lead to confusion, potential health risks, and legal repercussions for manufacturers, importers and their agents. Regardless of your role in the supply chain, we can advise as to what you can and should say about your product, and sometimes what you shouldn't. (View our Product Liability Page)
Global Corporate Compliance
International business requires an international compliance program. Simply put, doing business globally exposes companies to different risks as compared with their purely domestic counterparts. Thus, our Compliance team's program design and implementation services are tailored to help companies with an international footprint. Specifically, we help with crafting or improving compliance policies and programs, conducting tailored training for key personnel, drafting and negotiating contractual provisions to manage risk, and performing compliance reviews or audits. Our Compliance services account for the wide array of laws implicated by international business, such as anti-bribery laws, anti-money laundering laws, economic sanctions, import and export controls, government contracting focused laws like the TAA, and modern slavery / human trafficking laws. Finally, we offer outside general counsel / compliance officer services that involve being embedded within a company on a short- or long-term basis in order to serve as a cost-effective resource for dealing with these issues.
Assistance with Government Interaction and Enforcement Actions
Because laws involving global trade often implicate national security or economic priorities, governments are quite vigilant and eager with respect to enforcing them. Likewise, getting a formal or informal "read" from the government can save this type of heartburn down the line. We can help in the many ways your business may interact with the government, from obtaining licenses or interpretive guidance from regulators to responding to subpoenas or other document requests. Likewise, we can conduct internal investigations of potential violations and facility voluntary self-disclosures as warranted by the circumstances. We have strong experience defending government investigations of potential violations (OFAC, BIS, CBP, ICE) and also assist with other governmental matters such as ruling requests, petitions and protests. (View our Government & Regulatory Affairs Page)
Mergers & Acquisitions / Deal Support
International issues have increasingly become a major consideration in the M&A space. U.S. regulators have emphasized that investors are expected to conduct adequate trade-related due diligence on acquisitions and remedy deficiencies in a manner to prevent future violations. Likewise, liability for past violations of an acquisition is possible and must be accounted for in both deal structure and agreement language. We frequently assist with sanctions and import / export issues that arise during the due diligence process for both investors and targets, and we also help prepare companies for situations like IPOs or fundraising rounds in terms of putting in place the types of compliance measures that investors expect to see. Finally, we assist with post-transaction remediation issues for portfolio companies, acquisitions, etc. in order to bring them in line with regulatory expectations. (View our Mergers & Acquisitions Page)
Intellectual Property Acquisition, Management, Licensing, Protection and Enforcement
Careful acquisition, maintenance and management of intellectual property rights and the protection those rights afford investors and business enterprises combined with mitigation of risks associated with infringing the rights of others are essential to businesses that want to compete successfully around the globe.
At Maynard Nexsen, we have more than 40 attorneys and professionals who focus on the development, acquisition, management, monetization, and protection of U.S. and non-U.S. patents, trademarks, copyrights, know-how and trade secrets. Our clients include domestic, foreign and multinational companies that compete in a broad range of industries, including electronics, computers, semiconductors, software, big data, the Internet, mobile and wireless communication, financial services and technology, drones, autonomous vehicles, robotics, artificial intelligence, medical devices, biotechnology and pharmaceuticals.
The core members of our IP Practice Group have engineering and science backgrounds and degrees in electrical engineering, physics, chemistry, chemical engineering, computer science, biology and related life sciences. Our team includes seasoned patent, trademark and copyright lawyers with extensive experience in the acquisition and management of intellectual property rights, including portfolio development that comprehends the drafting and prosecution of thousands of patent, trademark and copyright applications around the world and cross-border transactional work involving research and development, licensing, supply and technology transfer agreements. They also have experience and expertise in employer/employee IP rights agreements, and in the due diligence, quality and valuation work required when buying or selling businesses in the U.S. and abroad.
Ourt IP team has earned a national reputation for its expertise, experience and service in the enforcement of intellectual property rights and litigation of intellectual property matters and disputes in federal and state courts across the U.S., often supervising and coordinating related or parallel litigation in other countries. In addition to litigation in the U.S. courts involving patent, trademark, copyright, trade secret and unfair competition claims, our litigators represent and defend clients in international arbitration proceedings in the U.S. and abroad, and in the U.S. Patent Trial and Appeal Board (PTAB), including inter partes review and other post-grant review proceedings and trials. We also represent complainants and respondents in cases filed in the U.S. International Trade Commission ("ITC"), a federal agency that oversees actions against unfair trade practices, including patent, trademark, and copyright infringement, and is responsible for handling investigations and related proceedings involving imported goods under Section 337 of the Tariff Act of 1930. Most of those Section 337 cases involve complaints brought by members of an established U.S. industry that claim to have been harmed by alleged patent infringement by imported products. Section 337 cases can be powerful tools because the relief sought and sometimes granted are exclusion or cease and desist orders that bar, limit or condition importation of goods into the U.S. market. A successful defense in an ITC proceeding preserves an importer's continued access to consumers in the U.S.
We can help maximize the value of your intellectual property, ensure the protection of your innovations and enforcement of your intellectual property rights, and provide advice and counsel to avoid or mitigate intellectual property disputes and defend against infringement allegations not only here in the U.S., but in emerging markets and established economies around the world. (View our Intellectual Property Page)
Transfer Pricing
Transfer pricing drives the tax obligations and cash flow of a multinational on country-by-country basis. Our attorneys, affiliated firms of local lawyers in foreign jurisdictions, and contacts and resources in global accounting firms can help you understand and evaluate your global footprint and transfer pricing needs. We advise and assist US and foreign-based companies in creating, optimizing, and documenting transfer pricing policies and strategies. Maynard Nexsen can work with you to understand the economics of your global structure and supply chain and help identify transfer pricing opportunities and risks. (View our International Business Transactions Page)
Admiralty & Maritime
Our admiralty and maritime lawyers represent more than half of the members of the International Group of P&I Clubs, which insures the vast majority of ocean-going vessels engaged in international trade. We regularly assist foreign shipowners and charterers with U.S. Coast Guard boardings and investigations, maritime accidents and personal injury, cargo disputes, charter parties, offshore incidents, pollution, and other matters governed by the General Maritime Law. Maynard Nexsen has an established network of marine surveyors to assist with the technical aspects of investigating maritime incidents, cargo disputes, and vessel damage. Our attorneys are also experienced in assisting shipyards and other suppliers in establishing maritime liens on vessels engaged in international trade to secure payment for goods and services or to foreclose on first preferred ship mortgages.
Related Capabilities
Value-Added Service Offerings