The DOL's Laser Focus on Mental Health Parity: Practical Considerations for Plan Sponsors
09.17.2021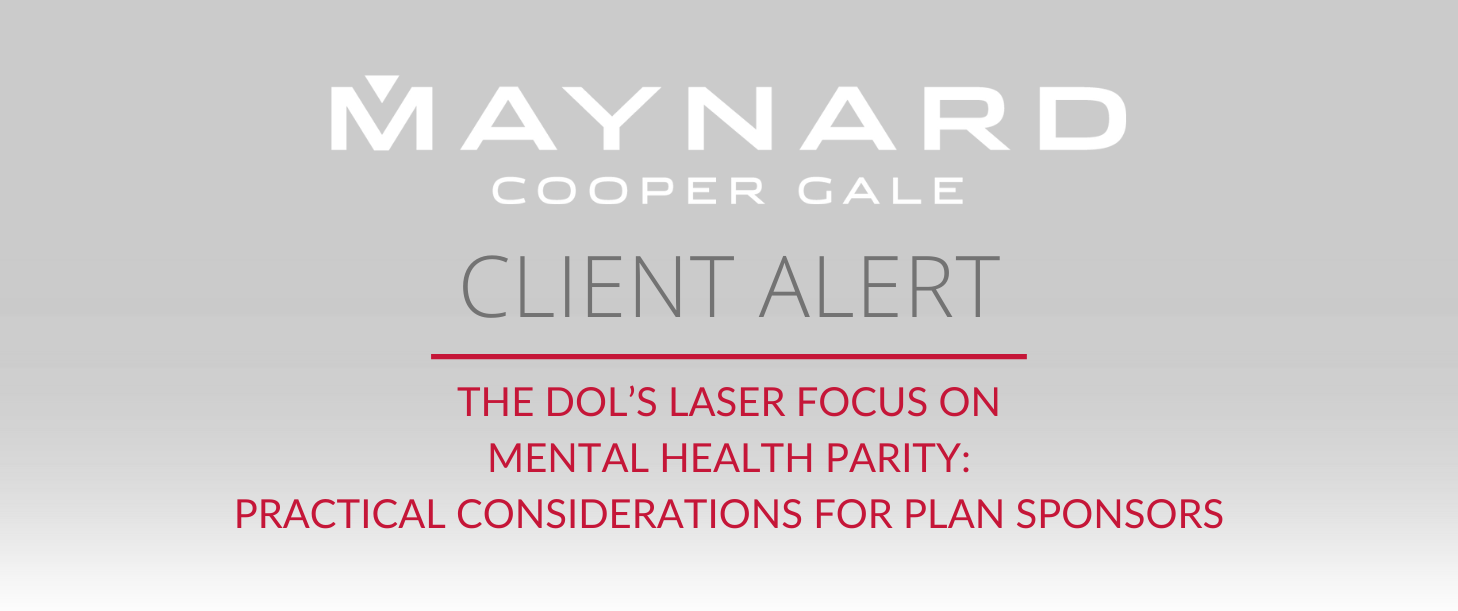 Last month, the U.S. Department of Labor ("DOL") entered into a settlement agreement with UnitedHealthcare Insurance Company, United Behavioral Health, and Oxford Health Insurance, Inc. (collectively, "United"), wherein United agreed to pay more than $15.6 million to settle allegations that they violated the Mental Health Parity and Addiction Equity Act ("MHPAEA"), including $13.6 million to affected participants and beneficiaries and over $2 million in penalties. The DOL determined that United's practice of reducing reimbursement rates for out-of-network mental health services, thereby overcharging participants for those services, and subjecting mental health treatments to utilization reviews, resulting in numerous denials of coverage, violated the MHPAEA.
Why is the United Settlement Significant?
The lawsuit and settlement is a departure from the DOL's usual MHPAEA enforcement efforts, which have tended to focus on requiring group health plans or health insurers to take corrective action in the form of expanding coverage and reprocessing denied claims. The settlement indicates that the DOL is focusing on MHPAEA enforcement and that the agency is not afraid to seek financial penalties through litigation. Additionally, it underscores the need for group health plans and health insurers to make efforts to ensure that they are complying with all aspects of the MHPAEA, including the new documentation requirement enacted under the Consolidated Appropriations Act, 2021 ("CAA").
What is the New Documentation Requirement, and When Did It Go into Effect?
As background, under the MHPAEA, group health plans and health insurers that provide mental health and substance use disorder ("MH/SUD") benefits are prohibited from imposing "non-quantitative treatment limitations" ("NQTLs") on MH/SUD benefits unless the plan or insurer performs a comparative analysis showing that the standards used in applying the NQTL to MH/SUD benefits within a particular "classification" are comparable to the standards used in applying the NQTL to medical and surgical ("M/S") benefits in the same classification. The CAA amended the MHPAEA to require, as of February 10, 2021, that group health plans and health insurers document their comparative analyses and be prepared to provide those written comparative analyses to the Secretaries of Labor, Health and Human Services, and Treasury (collectively, the "Departments") upon request.
Why Should Plan Sponsors Care About the New Documentation Requirement?
Although the MHPAEA already required group health plans and health insurers to conduct comparative analyses of NQTLs, the new documentation requirement instituted under the CAA necessitates a more proactive approach. Additionally, while the failure to perform comparative analyses in the past has not been seen as a major priority for the DOL, the DOL has confirmed that MHPAEA violations will be an enforcement priority going forward (as exemplified by the United settlement). In light of such enhanced enforcement, we wanted to provide some practical considerations for plan sponsors who are trying to comply and avoid being penalized for MHPAEA violations, specifically for failing to meet the new NQTL written comparative analysis requirement.
What Difficulties Do Plan Sponsors Face When Attempting to Comply?
One of the major hurdles plan sponsors may face when attempting to comply with the NQTL written comparative analysis requirement is a lack of information about how their plans are being administered. Day-to-day plan administrative functions (including claims and reimbursement procedures) are often handled almost entirely by the insurer (or, for self-funded plans, by the third party administrator ("TPA")) and by other third party vendors, like behavioral health administrators and pharmacy benefit managers. Nonetheless, the MHPAEA requires that plans, in addition to insurers, perform and document NQTL comparative analyses, and otherwise ensure compliance with all mental health parity requirements, despite plan sponsors' general lack of knowledge and/or control over key aspects of plan administration. Furthermore, many plan sponsors who have reached out to their insurers, TPAs, and other vendors for the necessary data to demonstrate compliance with the comparative analysis requirement have been met with reluctance to provide such data. All of this begs the question: what can plan sponsors do to comply with the MHPAEA's written comparative analysis requirement?
What Can Plan Sponsors Do?
Because the documentation of comparative analyses requires a proactive approach, a best practice is to design and implement a comprehensive MHPAEA compliance program, including the designation of key personnel within the organization to be in charge of parity compliance. Developing a written compliance program, among other things, will demonstrate a good faith effort to comply with the comparative analysis documentation requirement. To assist in developing such a program, those in charge of parity compliance should review the most recent MHPAEA guidance published by the Departments, which includes, for example, the FAQ guidance published on April 2, 2021 and the most recent MHPAEA Self-Compliance Tool published on October 23, 2020. However, the guidance published by the Departments will only be useful to the extent the plan sponsor's personnel can obtain and analyze the necessary plan administration data. To that end, we recommend the following:
Determine which vendors to contact to gather the necessary data. In addition to the insurer or TPA for the health plan, this may also include, for example, a behavioral health administrator and/or pharmacy benefit manager.
Develop a list of specific questions for the insurer/TPA and other vendors that will allow you to gather the information needed to determine whether the plan is in compliance with the NQTL requirements. To develop an effective list of questions, it might be helpful to review the different types of NQTLs (including those that the Departments have indicated are priority enforcement items) to determine how they might apply to your plan(s).
Document all communications with the insurer/TPA and other vendors, particularly those in which you requested assistance with gathering the data necessary to ensure MHPAEA compliance.
Analyze the data provided by the insurer/TPA and other vendors, both on a granular level and in the aggregate. If needed, develop follow-up questions to the insurer/TPA and other vendors regarding any coverage disparities between MH/SUD vs. M/H benefits, the application of utilization review to MH/SUD benefits, and/or the reasoning behind MH/SUD claims denials.
Complete the section of the DOL's MHPAEA Self-Compliance Tool that relates to NQTLs (i.e., Section F) by synthesizing your analysis with the responses you received from the insurer/TPA and other vendors to your initial and follow-up questions.
If needed, identify areas of concern and implement appropriate corrective action.
It is important to think about mental health parity compliance as a continuous obligation. Integrate the NQTL comparative analysis process into existing internal audit and oversight activities, and keep in mind that all stakeholders in the industry (including, to some extent, the Departments themselves) are still trying to figure out how the comparative analysis framework should apply in the context of group health plan sponsors with little or no control over day-to-day administration. For now, the most important thing for plan sponsors to do is to document their existing NQTL compliance policies and take any other actions possible (and carefully document such actions) to demonstrate good faith efforts to comply with the comparative analysis requirement. Finally, remember that the comparative analysis requirement is not new; what is new is the requirement to document, in detail, your comparative analyses.
About Maynard Nexsen
Maynard Nexsen is a full-service law firm with more than 550 attorneys in 24 offices from coast to coast across the United States. Maynard Nexsen formed in 2023 when two successful, client-centered firms combined to form a powerful national team. Maynard Nexsen's list of clients spans a wide range of industry sectors and includes both public and private companies.
Related Capabilities
Media Contact
Tina Emerson