MAYNARD EARNS TOP MARKS IN 2022 BENCHMARK LITIGATION
10.06.2021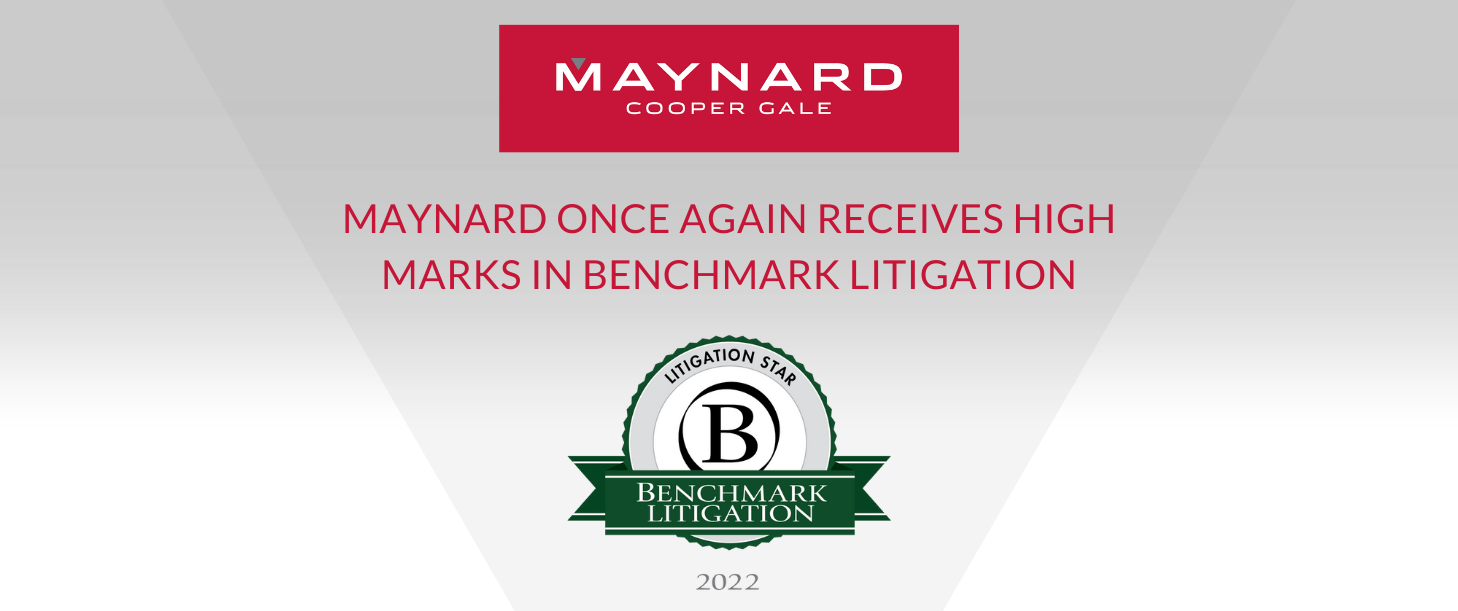 Maynard, Cooper & Gale (Maynard) has earned the distinction of a Highly Recommended Litigation Firm and Highly Recommended Labor & Employment Firm in the recently released 2022 edition of Benchmark Litigation, the definitive guide spotlighting the nation's leading law firms and litigators.

The list of Maynard lawyers recognized in the 2022 editions of Benchmark Litigation includes:
1. Lee Bains (Litigation)
2. Joshua Baker (Litigation)
3. Josh Bennett (Labor & Employment)
4. Jaime Betbeze (Litigation)
5. Joe Bird (Litigation)
6. John Bolus (Litigation)
7. Brandon Browning (Litigation)
8. Tom Butler (Litigation)
9. John David Collins (Litigation)
10. John Earnhardt (Litigation)
11. Christopher Frost (Litigation)
12. Jeff Grantham (Litigation)
13. Ted Holt (Litigation)
14. Jay Lester (Litigation)
15. Warren Lightfoot (Labor & Employment)
16. Stephanie Mays (Labor & Employment and Litigation)
17. Ethan McDaniel (Litigation)
18. Michael Mulvaney (Litigation)
19. Grace Murphy (Litigation)
20. Maibeth Porter (Litigation)
21. Jim Priester (Litigation)
22. David Smith (Labor & Employment and Litigation)
23. Tom Thagard (Litigation)
24. William Wahlheim (Litigation)
25. Tommy Wells (Litigation)
26. Angel West (Litigation and named to Benchmark's 2021 Top 250 Women in Litigation)
Congratulations to all of those recognized!

About Maynard Nexsen
Maynard Nexsen is a full-service law firm with more than 550 attorneys in 24 offices from coast to coast across the United States. Maynard Nexsen formed in 2023 when two successful, client-centered firms combined to form a powerful national team. Maynard Nexsen's list of clients spans a wide range of industry sectors and includes both public and private companies.
Media Contact
Tina Emerson