EXPERIENCED LAWYERS JOIN MAYNARD'S INTELLECTUAL PROPERTY, CYBERSECURITY & PRIVACY, AND CORPORATE PRACTICES
02.18.2022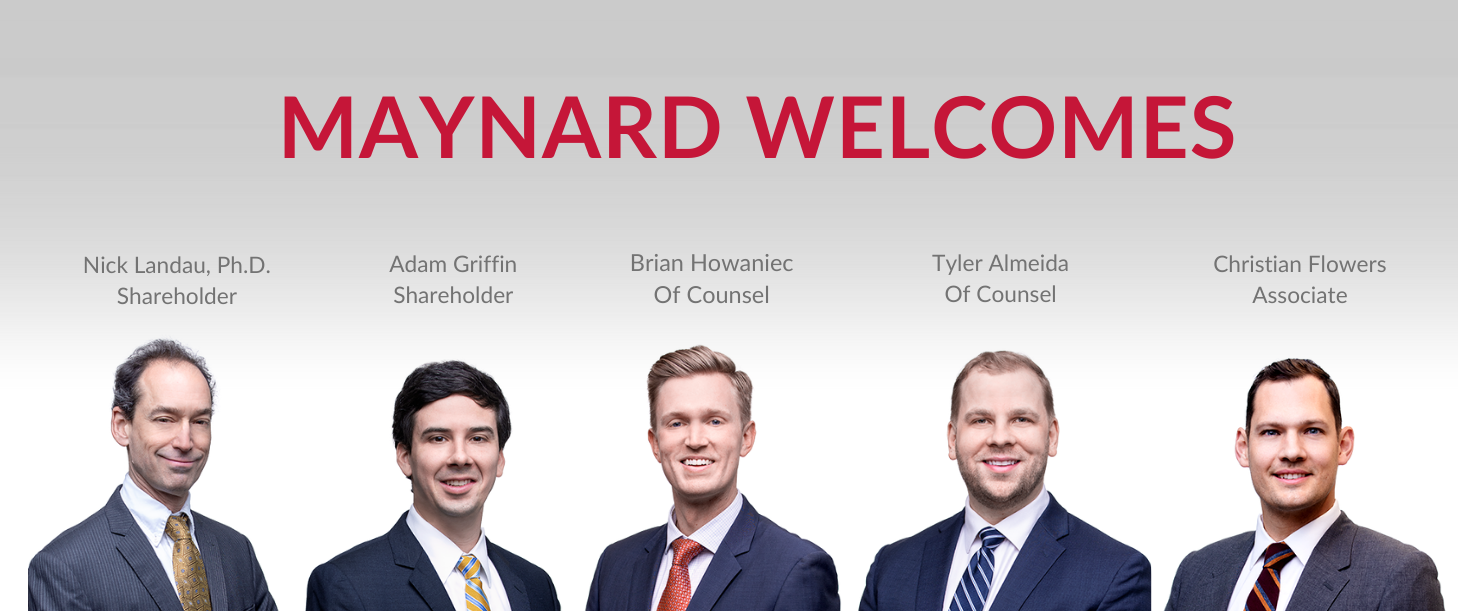 Maynard continues to grow with the recent addition of experienced lawyers in several areas of practice across its footprint. The Firm is pleased to welcome Nicholas J. Landau, Ph.D. and Adam Griffin as Shareholders, Brian Howaniec and Tyler Almeida as Of Counsel, and Christian Flowers as an Associate.
"Maynard consistently attracts new talent to bring additional depth and expertise to our growing firm and expanding client base," said Stephanie Mays, Chief Talent Officer. "We are thrilled to welcome Nick, Adam, Brian, Tyler and Christian to the Maynard team."
Nick Landau, Ph.D., is a seasoned Patent attorney with 18+ years of legal experience and doctoral level training in environmental/industrial microbiology. Working in the Firm's Birmingham, AL office, he focuses his practice on patent drafting, patent prosecution, managing international patent portfolios, and providing legal analysis and opinions; as well as brand protection and enforcement. Landau is active in the biotechnology industry serving as a board member of BIO Alabama, former Chair of the AIPLA Biotechnology Committee, and as an Adjunct Professor of Law at Cumberland School of Law. Prior to joining Maynard, Landau practiced in Alabama and Florida with national firms. His background also includes serving as Litigation Counsel with the U.S. Army Corps of Engineers Office of the Chief of Counsel in Washington, D.C., and serving as an Associate Plant Examiner at the U.S. Plant Variety Protection Office. He earned his J.D. from the University of Virginia School of Law and his Ph.D. in Environmental Science from Rutgers, the State University of New Jersey. Landau holds a M.S. from the University of Maryland and a B.A. from the University of Virginia.
Adam Griffin is a Shareholder in the Firm's Cybersecurity & Privacy Practice. Also working from Maynard's Birmingham office, Adam advises clients nationwide on a spectrum of data privacy and security issues, including breach response, vendor management, policy and procedure preparation and review, regulatory compliance, incident response planning, audit and investigation oversight, and related litigation. Working with clients across varied industries including, education, financial services, and technology, Griffin is well versed in federal, state, and international privacy laws (e.g., COPPA, GLBA, GDPR, FERPA, CCPA). He is CIPP/US certified by the International Association of Privacy Professionals (IAPP). Additionally, he maintains a civil litigation practice, including large and complex cases for national clients in the areas of forestry, agriculture, and construction. Griffin earned his J.D. from the University of Alabama School of Law and holds a B.B.A. in Business Information Systems from Mississippi State University.
Working from Maynard's office in Washington, D.C., Brian Howaniec has a particular focus in the area of mergers, acquisitions, and other strategic transactions involving private equity financing. He has experience representing borrowers in secured lending and other financing transactions, including acquisition financings, cash-flow and asset-based loans, subordinated debt facilities, and fund lines of credit. In addition, he is well-versed in securities regulation and has worked on international capital markets transactions. Prior to joining Maynard, Howaniec was an associate in the London and Washington, D.C. offices of a global law firm. He earned his J.D. from Pepperdine University School of Law, and he holds a B.S. in Finance from Indiana University.
Tyler Almeida joins the Firm's Corporate and Tax groups, bringing prior experience as a Tax Associate with two of the Big Four accounting firms. He has advised private equity firms and other U.S. and foreign multinational companies through the tax implications of their domestic and foreign mergers and acquisitions. Working from the buy- and sell-side, Tyler conducts tax due diligence, tax structuring (domestic and foreign), section 382 studies, and E&P calculations, as well as preparation of tax structuring decks, transaction cost analyses, and tax opinions. He also assists companies with regulatory compliance, legal entity rationalizations, post-merger integrations, and debt/equity financings. Tyler holds a Master of Laws in Taxation from the University of Florida Levin College of Law. He earned his J.D. from the University of Kentucky College of Law and a B.A. in Political Science with a minor in Business Administration from the University of Mount Union, where he also served as the place kicker for the school's NCAA Division III varsity football team.
Christian Flowers joins the Maynard Venture Partners group, a cross-disciplined team of experienced lawyers and professionals focused on venture capital and emerging growth companies. Flowers brings several years of experience counseling clients ranging from start-ups and angel investors to established companies. He advises clients on a broad range of sophisticated corporate and transactional services including business entity formations, private equity and venture capital investments, securities offerings, commercial contract negotiations, mergers, acquisitions, joint ventures, and other strategic endeavors. In addition, Flowers has experience handling intellectual property issues. Flowers earned a joint J.D./M.B.A. with a concentration in Finance from Samford University's Cumberland School of Law and Brock School of Business, and he holds a B.A. from Pepperdine University.
Maynard's Cybersecurity & Privacy and Intellectual Property practices are nationally recognized among a select group of firms as the "best of the best" in the BTI Litigation Outlook 2022 – Post Pandemic and Beyond Report. Maynard's Cybersecurity & Privacy Practice is recognized among the top 16 cybersecurity and data privacy litigation firms in the U.S., with Maynard's Intellectual Property Practice recognized among the top 22 firms in IP Litigation.
Maynard's Corporate Law and Mergers & Acquisitions practice groups are also recognized among the top in the field by Chambers & Partners and in the Best Lawyers 2022 listing of "Best Law Firms".
About Maynard Nexsen
Maynard Nexsen is a full-service law firm with more than 550 attorneys in 24 offices from coast to coast across the United States. Maynard Nexsen formed in 2023 when two successful, client-centered firms combined to form a powerful national team. Maynard Nexsen's list of clients spans a wide range of industry sectors and includes both public and private companies.
Related Capabilities
Media Contact
Tina Emerson