MAYNARD WELCOMES EXPERIENCED ATTORNEYS ACROSS ITS FOOTPRINT
07.11.2022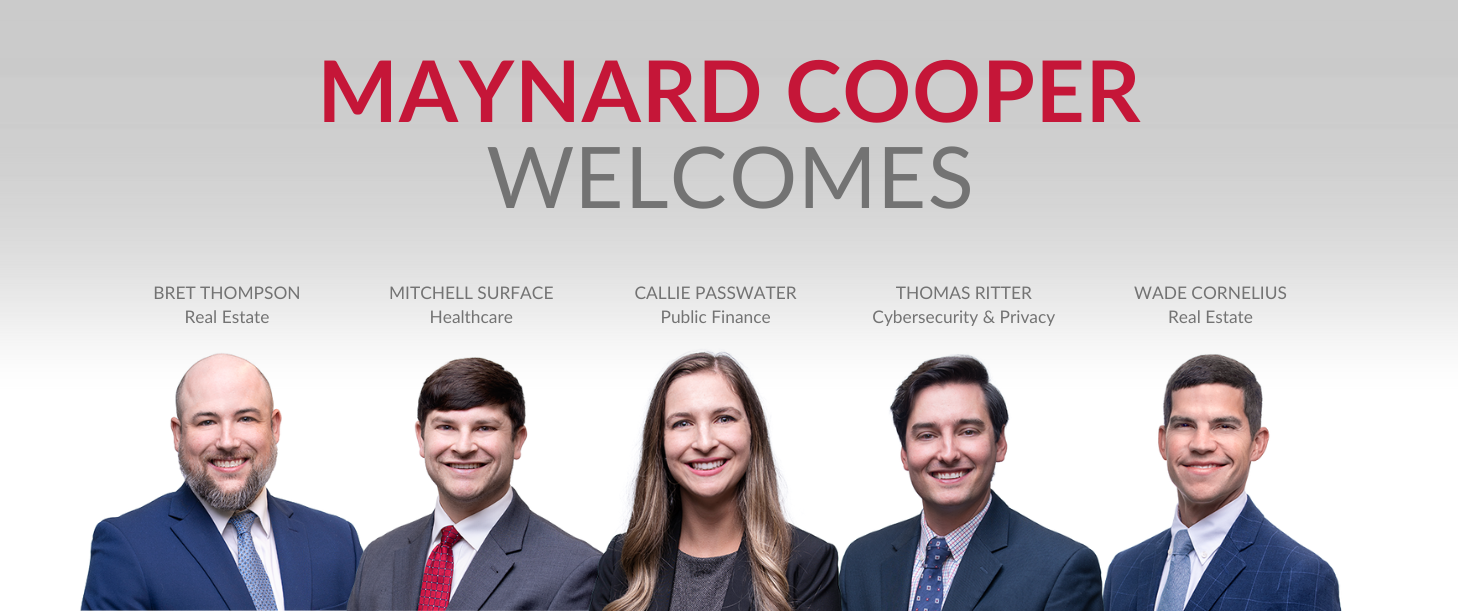 Maynard & Gale (Maynard) is pleased to announce the arrival of five experienced attorneys joining the Firm as Associates in the Real Estate, Public Finance, Cybersecurity & Privacy, and Healthcare practice groups.
"Maynard continues to grow as a Firm across our national footprint," said Chief Talent Officer Stephanie Mays. "We are excited to welcome this group of experienced Associates to the Firm."
A. Wade Cornelius joins Maynard in Birmingham as an Associate in the Real Estate Practice. Cornelius is a commercial real estate and finance lawyer with extensive transaction experience. Tapping into his strong corporate law background, he works closely with business clients as well as a wide range of financial institutions to advise them on all aspects of their strategic initiatives. Cornelius earned his J.D. from Penn State Dickinson School of Law, where he was a member of the Dickinson Law Review and the Banking & Finance Law Society. He holds a B.A. from the University of Alabama.

Callie Passwater joins the Firm as an Associate in the Atlanta office. Passwater works in Maynard's Public Finance Practice and focuses on federal tax and tax credits. With her background in historic preservation, she enjoys working on matters involving historic tax credits as well as with tax exempt organizations. Passwater also assists with projects involving new markets tax credits, opportunity zones, and international taxation. She received her J.D., cum laude, from Georgia State University College of Law, and she earned her LLM in Taxation from Georgetown University Law Center. Passwater holds both a M.A., summa cum laude, and B.A., magna cum laude, in history from Middle Tennessee State University.
Thomas Ritter joins Maynard in Nashville as an Associate in the Firm's growing Cybersecurity & Privacy Practice. He works closely with clients to develop practical privacy and information security solutions, including guidance on applicable legal requirements under international, federal, state, and contractual law. He also assists organizations of all sizes in responding to data security events. He has represented clients across numerous industries in connection with data security breaches involving consumer and employee data, as well as other sensitive information. Ritter earned his J.D. from the University of Tennessee College of Law. He holds a B.A., magna cum laude, in Political Science from the University of Tennessee Knoxville, where he was a member of the Chancellor Honors Program.
Mitchell "Mitch" Surface joins the Firm's Healthcare Practice in Birmingham. He works with healthcare providers and suppliers across the United States with the full range of regulatory, compliance, and transactional matters directly impacting their business operations and goals. With a LL.M. in Health Law and Policy and serving as President and founding member of the Student Health Lawyers Association while in law school, Surface is a zealous advocate and passionate about healthcare law. He earned his J.D., cum laude, and LL.M. in Health Law and Policy from Cumberland School of Law, where he served as Online Editor for the American Journal of Trial Advocacy and was awarded Scholar of Merit in several courses. He holds a B.A. in Political Science with a Minor in Ethics, magna cum laude, from Valdosta State University.
Bret L. Thompson also joins the Firm's Real Estate Practice in Birmingham, assisting clients with all aspects of their real estate ventures, including acquisitions, developments, dispositions, leasing, management, and financing. Thompson works with buyers, sellers, developers, landlords, tenants, and lenders across the U.S. in a broad range of commercial real estate transactions. Before joining Maynard, Thompson was in private practice for more than five years with two southeast regional firms. His experience was concentrated in other areas of law, including litigation as well as advising corporate and individual clients in a wide variety of commercial and corporate business matters. Thompson received his J.D., cum laude, from Cumberland School of Law at Samford University, and he holds a B.A., magna cum laude, in History (Departmental Honors Distinction) from Birmingham‐Southern College.
About Maynard Nexsen
Maynard Nexsen is a full-service law firm with more than 550 attorneys in 24 offices from coast to coast across the United States. Maynard Nexsen formed in 2023 when two successful, client-centered firms combined to form a powerful national team. Maynard Nexsen's list of clients spans a wide range of industry sectors and includes both public and private companies.
Related Capabilities
Media Contact
Tina Emerson