MAYNARD REPRESENTED VERASCI IN SALE TO WCG CLINICAL SERVICES: EARNS A SPOT ON THE 2022 MID-MARKET DEALS OF THE YEAR
05.24.2022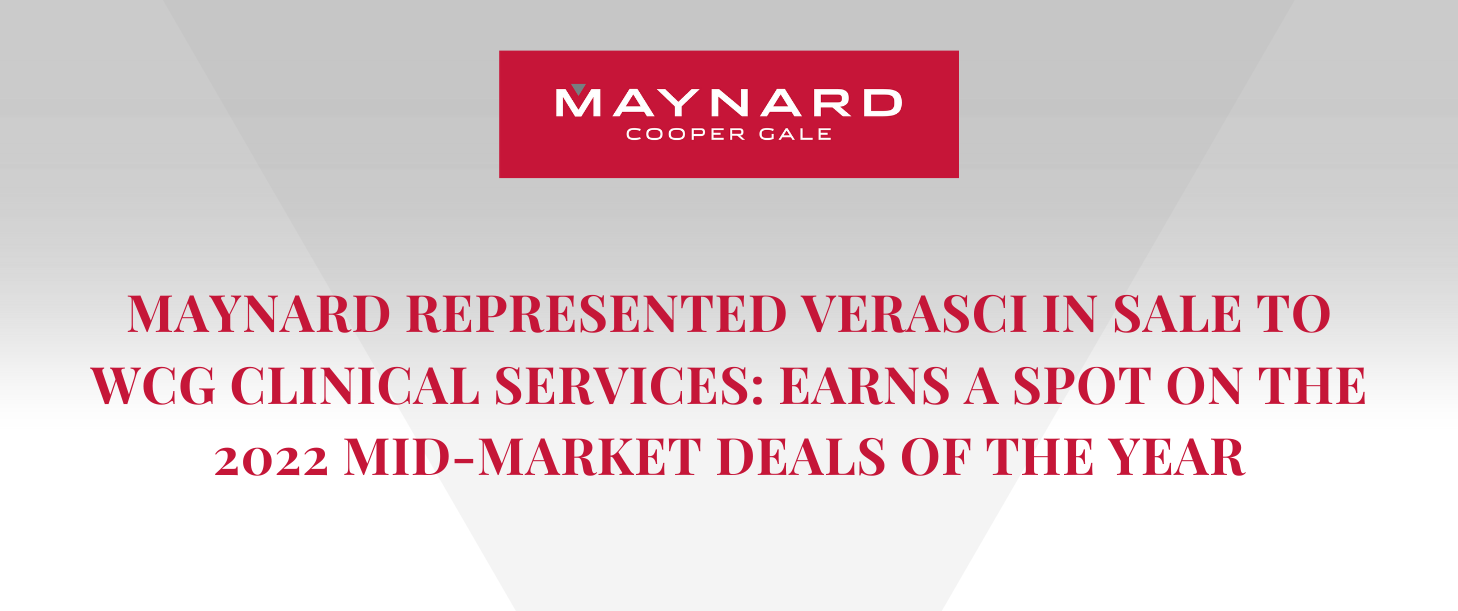 Maynard is proud to announce that the firm's representation of Verasci, a biotechnology company located in Research Triangle, NC, in its strategic sale to WCG Clinical Services was recently recognized among the top middle market deals in the Mergers & Acquisitions Mid-Market Deals of the Year. Maynard is honored to have a strong presence among some of the leading global M&A firms recognized in the 15th Annual M&A Mid-Market Awards.
The Verasci deal was the only one selected in the biotechnology category. James Childs served as lead transaction counsel to VeraSci, a global provider of specialty scientific expertise and eClinical software to support the design and execution of clinical trials focused on the central nervous system. WCG Clinical Services, Inc., based in Princeton, NJ, is a leading provider of solutions that measurably improve the quality and efficiency of clinical research. The combination of these two companies enables them to offer a more comprehensive suite of services to support clinical trials focused on central nervous system disorders. WCG was represented by Morgan Lewis in this transaction.
In addition to M&A, Maynard also provided support in the areas of HSR, tax, intellectual property, regulatory compliance, data and privacy, ERISA and benefits, and employment matters, and the team also included Matt Rowley, Nate Cartmell, Hardwick Walthall, Lauren Morina, Lauren DeMoss, Jessica Everest, Mitchell Greggs, and Starr Drum. To see the complete list of 2022 middle market dealmaker winners, click here.
About Maynard Nexsen
Maynard Nexsen is a full-service law firm with more than 550 attorneys in 24 offices from coast to coast across the United States. Maynard Nexsen formed in 2023 when two successful, client-centered firms combined to form a powerful national team. Maynard Nexsen's list of clients spans a wide range of industry sectors and includes both public and private companies.
Related Capabilities
Media Contact
Tina Emerson