MAYNARD ADDS DEPTH TO ITS ASSOCIATE RANKS ACROSS NATIONAL FOOTPRINT
04.25.2022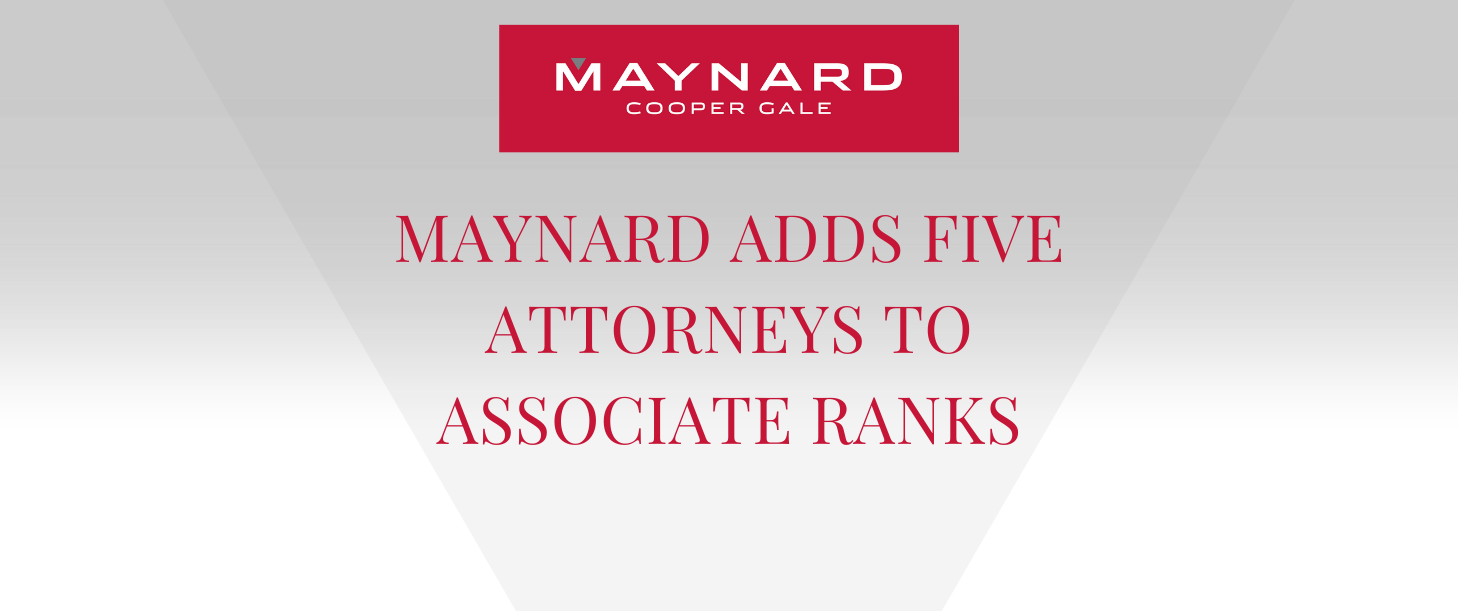 Maynard continues to grow with the recent addition of five attorneys in several areas of practice across its footprint. The Firm is pleased to welcome the following attorneys as Associates in their respective practice areas:
Destinee C. Small, Securities and Financial Services Litigation, Birmingham, AL
Matthew Chipman, Insurance and Financial Services Litigation, San Francisco, CA
Andrew Donovan, Corporate, Huntsville, AL
John M. Parker, Jr, Real Estate, Huntsville, AL
Jason P. Tiemeier, Corporate, Atlanta, GA
"Maynard consistently attracts outstanding talent who not only add depth and expertise to our growing firm and expanding client base but also exemplify our Firm's principles," said Stephanie Mays, Chief Talent Officer. "We are thrilled to welcome Destinee, Matt, Andy, John, and Jason to the Maynard team."
Destinee Small joins Maynard's Securities and Financial Services practice in Birmingham as an Associate. She is a recent graduate of Florida State University College of Law, where she was staff editor of the Business Law Review and regional champion of the Black Law Students Association's national trial competition. Mrs. Small participated in Maynard's Summer Associate Program in the summers of 2020 and 2021. She was an FSU Law Distinguished Pro Bono Service Recipient in December of 2021 and holds certification in Principled Negotiation from Yale University. She also holds a B.S. in Business Management from Florida State University.
Matthew Chipman is an Associate in Maynard's San Francisco office, where he works on complex civil litigation in both State and Federal courts focusing on insurance coverage litigation. His experience includes claims under traditional policies of insurance subject to the California Insurance Code, as well as various liability coverage agreements and other similar contracts provided by entities pursuant to the California Government Code and California Labor Code. He received his J.D. from the University of San Francisco School of Law and holds a B.A. from the University of California, Berkeley. Mr. Chipman was a judicial extern for the Honorable Saundra Armstrong for the United States District Court for the Northern District of California.
Andrew Donovan is an experienced corporate and transactional attorney. He is an associate in Maynard's Corporate Securities and Tax practice group where he advises companies on a range of business matters including corporate governance and commercial transactions, with a particular emphasis on mergers, acquisitions, and joint ventures. He also advises clients on entity formation, restructuring strategies, and private equity and debt financings, among other areas of general corporate law. His experience also includes providing outside General Counsel services for clients. Andrew received his J.D. from the University of Kentucky College of Law, magna cum laude, where he was elected to the Order of the Coif. He holds a B.A. in history and political science from the University of Alabama at Huntsville. While attending UAH, Andrew was a member of the men's varsity basketball team.
John Parker is an experienced commercial real estate attorney practicing from Maynard's Huntsville, AL office. He focuses his practice on the acquisition, disposition, and leasing of commercial real estate. Mr. Parker assists clients with multistate acquisitions and has experience negotiating commercial leases, including single and multi-tenant leases and build-to-suit leases. He works with clients to obtain and evaluate due diligence materials such as title commitments, surveys, zoning and property condition reports, and environmental assessments. Mr. Parker received his J.D. from Cumberland School of Law and holds a B.S. in commerce and business administration from The University of Alabama.
Jason Tiemeier is an Associate in Maynard's Corporate Section, where he focuses his practice in the areas of tax and domestic and global mergers and acquisitions. He has advised large multi-national corporations on tax-efficient restructurings, legal entity rationalization, intercompany refinancing, and federal and international tax compliance. For companies and private equity firms considering mergers, acquisitions, and other strategic initiatives, Mr. Tiemeier has experience providing advisory services throughout all phases of the transaction process. Prior to joining Maynard, he worked in the International Tax & Transaction Advisory Services group at one of the Big Four accounting and professional services firms in Atlanta. Mr. Tiemeier attended the University of Florida, where he earned both a J.D. and Master of Laws in Taxation from the Levin College of Law. He holds a B.S. in Business Administration from the University of Florida and an M.B.A. with a specialization in Corporate Finance from the University's Hough Graduate School of Business.
About Maynard Nexsen
Maynard Nexsen is a full-service law firm with more than 550 attorneys in 24 offices from coast to coast across the United States. Maynard Nexsen formed in 2023 when two successful, client-centered firms combined to form a powerful national team. Maynard Nexsen's list of clients spans a wide range of industry sectors and includes both public and private companies.
Related Capabilities
Media Contact
Tina Emerson