OSHA Tweets Reminder of March 2 Deadline for OSHA 300A Summaries
01.15.2020
On January 7, 2020 OSHA used its Twitter account to remind covered employers to electronically submit the OSHA 300A summary for 2019 by no later than March 2, 2020. Covered employers for this purpose are those with establishments employing 250 or more workers and/or establishments employing 20 to 249 workers in certain industries with historically high rates of injury, including the construction, manufacturing, transportation, and healthcare industries.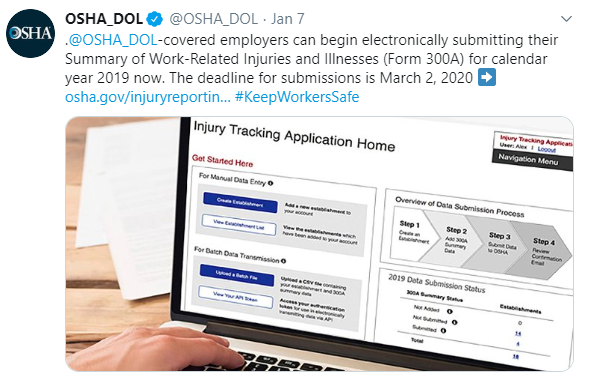 This electronic submission requirement applies to establishments in state-plan states like South Carolina and North Carolina. Electronic submission is made through OSHA's Injury Tracking Application online portal. OSHA uses the submitted information to target establishments with high rates of injury for inspection. Employers who fail to file the 300A summary on time risk being cited and inspected.
Establishments with 11 or more employees in most industries must also post the OSHA 300A summary from February 1 to April 30, 2020 where it will be visible to workers and retain the form for five years. These establishments must also maintain (1) a list of each recordable workplace injury on the OSHA 300 log, and (2) a detailed report for each recordable workplace injury on the OSHA 301 incident report. The OSHA 300 log and OSHA 301 incident report do not have to be filed electronically.
For more information on OSHA requirements, see the below links:
About Maynard Nexsen
Maynard Nexsen is a full-service law firm with more than 550 attorneys in 24 offices from coast to coast across the United States. Maynard Nexsen formed in 2023 when two successful, client-centered firms combined to form a powerful national team. Maynard Nexsen's list of clients spans a wide range of industry sectors and includes both public and private companies.
Related Capabilities
Media Contact
Tina Emerson