Senator Shelby Former Chief of Staff Joins Maynard
06.28.2021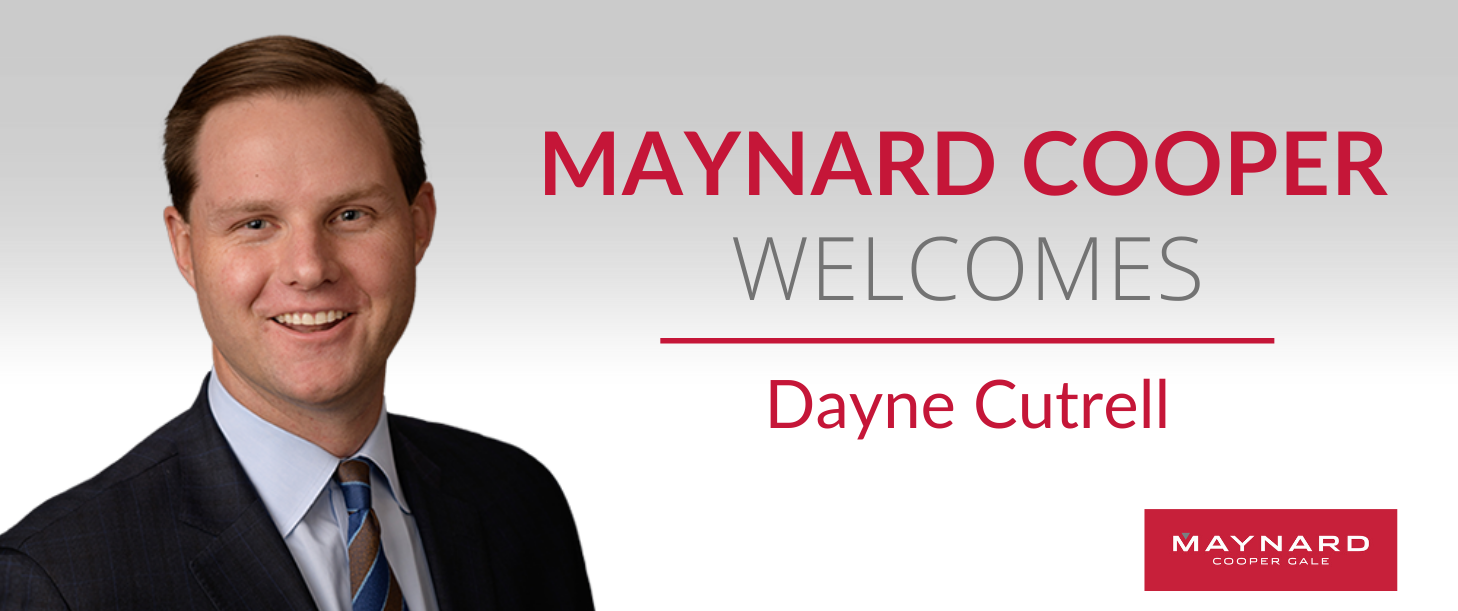 Maynard & Gale (Maynard) is pleased to welcome Dayne Cutrell as a Shareholder in the Firm's Government and Regulatory Affairs Practice where he will serve as Director of Federal Affairs.
Cutrell joins Maynard after working in Washington, D.C. for more than a decade. He served in the office of Senator Richard Shelby in various capacities, having most recently worked as Senator Shelby's Chief of Staff. Leading the D.C. and Alabama-based staff, Cutrell directed long-term legislative strategies and tactics and created and led coalitions to generate successful resolutions on complex issues, including Alabama appropriations matters. As the Senator's senior advisor, Cutrell provided counsel on legal, policy, communications, strategy, leadership, and campaign matters, and he acted as the Senator's delegate before industry and business executives, community leaders, government officials, and constituents.
Prior to serving as Senator Shelby's Chief of Staff, Cutrell worked as a subcommittee Staff Director, or Clerk, on the Commerce, Justice, Science, and Related Agencies Subcommittee (CJS) on the Senate Appropriations Committee and as a Legislative Director in the U.S. House of Representatives. In the CJS portfolio, Cutrell managed an allocation of approximately $65 billion, which included funding for the Department of Commerce; the Department of Justice, which is building a large and expansive new FBI complex in Huntsville; and NASA, which manages Marshall Space Flight Center in Huntsville, among others.
"Dayne is a skilled lawyer and legislative strategist," said Greg Curran, Chairman of the Board. "The wealth of knowledge and experience he brings from working at one of highest levels of federal government in D.C. will benefit the businesses and the clients that we represent. As a firm, we look forward to seeing these relationships grow while expanding our footprint and the services we offer."
"It is an honor to join a premier law firm headquartered in Alabama that has its sights set on the future," said Cutrell. "I look forward to leveraging my experience to advance our clients' strategic goals, provide counsel on how to navigate the ever-changing maze of federal bureaucracy, and produce successful outcomes."
A native of Mobile, Alabama, Cutrell received his undergraduate degree from Samford University, where he also played baseball for the Bulldogs. Cutrell earned his law degree from American University Washington College for Law.
About Maynard Nexsen
Maynard Nexsen is a full-service law firm with more than 550 attorneys in 24 offices from coast to coast across the United States. Maynard Nexsen formed in 2023 when two successful, client-centered firms combined to form a powerful national team. Maynard Nexsen's list of clients spans a wide range of industry sectors and includes both public and private companies.
Media Contact
Tina Emerson