MIYA MOORE JOINS MAYNARD'S LABOR & EMPLOYMENT PRACTICE
12.07.2021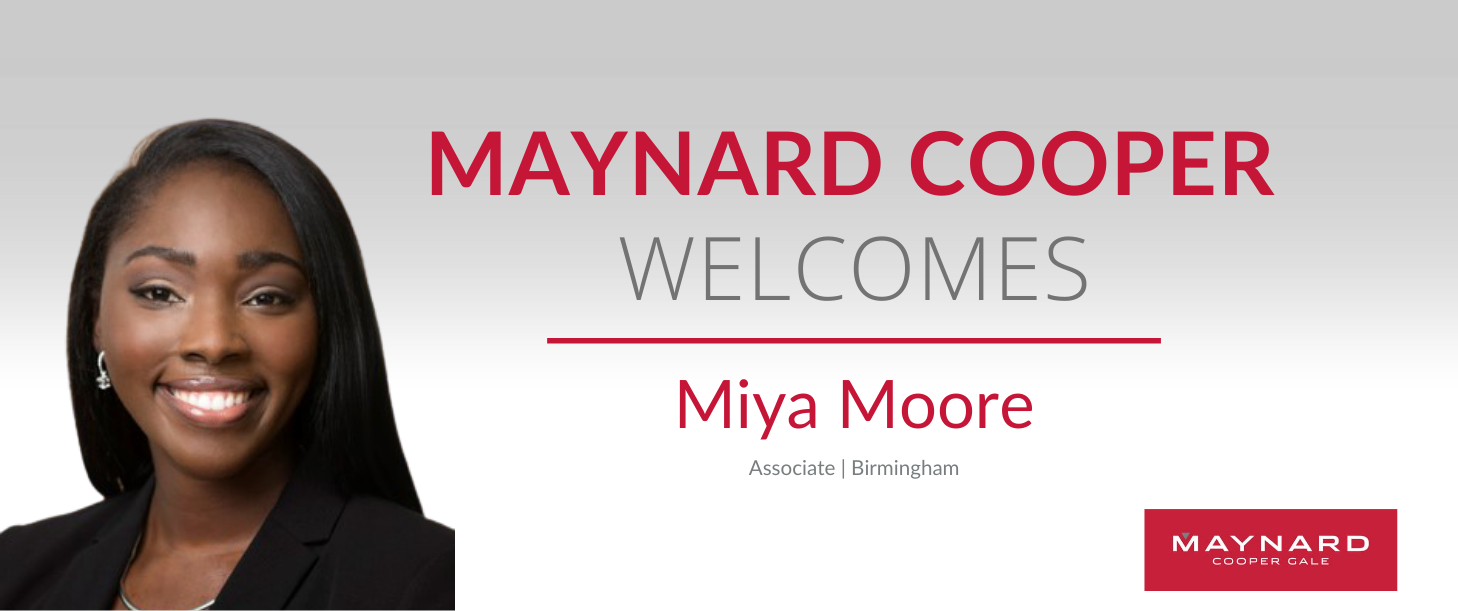 Maynard is pleased to announce that Miya Moore has joined the Firm's Birmingham office as an Associate in the Labor & Employment and Immigration practice groups.
Ms. Moore will assist businesses across a broad range of immigration, labor and employment, and compliance-related matters. With a particular focus in immigration law, Ms. Moore advises businesses regarding their immediate and long-term immigration plans and compliance. She also works with professionals and workers with specialized knowledge and skillsets, foreign nationals with exceptional ability, and domestic and international businesses in a variety of employment-related sponsorship cases. Ms. Moore is distinguished as a Best Lawyers: Ones to Watch in America, and The National Black Lawyers recognized her as a Top 40 Under 40.
"We are excited to have Miya join our team," said John Holmes, Chair of Maynard's Labor & Employment Practice. "She brings a particular level of immigration experience handling nonimmigrant visa petitions and employment-based immigrant visa petitions, which is a perfect fit for the services we provide our clients across the country."
Ms. Moore received her J.D. and M.B.A. concurrently from Samford University, and she earned her undergraduate degree from The University of Alabama where she was the recipient of the Autherine Lucy Foster Scholarship and inducted in the Sigma Alpha Lambda National Leadership and Honors Organization. Prior to joining Maynard, Ms. Moore worked with a southeast law firm for several years.
Maynard's Labor and Employment Practice is one of the largest in the Southeast. Nationally recognized, the Practice holds a Band 1 "Leading Firm" distinction from Chambers USA: America's Leading Lawyers for Business. Our experienced team is devoted exclusively to the representation of management in all facets of labor and employment law, and our immigration lawyers represent domestic and international business entities and individuals seeking solutions to complex immigration issues.
About Maynard Nexsen
Maynard Nexsen is a full-service law firm with more than 550 attorneys in 24 offices from coast to coast across the United States. Maynard Nexsen formed in 2023 when two successful, client-centered firms combined to form a powerful national team. Maynard Nexsen's list of clients spans a wide range of industry sectors and includes both public and private companies.
Media Contact
Tina Emerson