Maynard's John Bolus, Maibeth Porter, Jim Pool, John Lanier, and Peter Fruin named 2022 BTI Client Service All-Stars
02.14.2022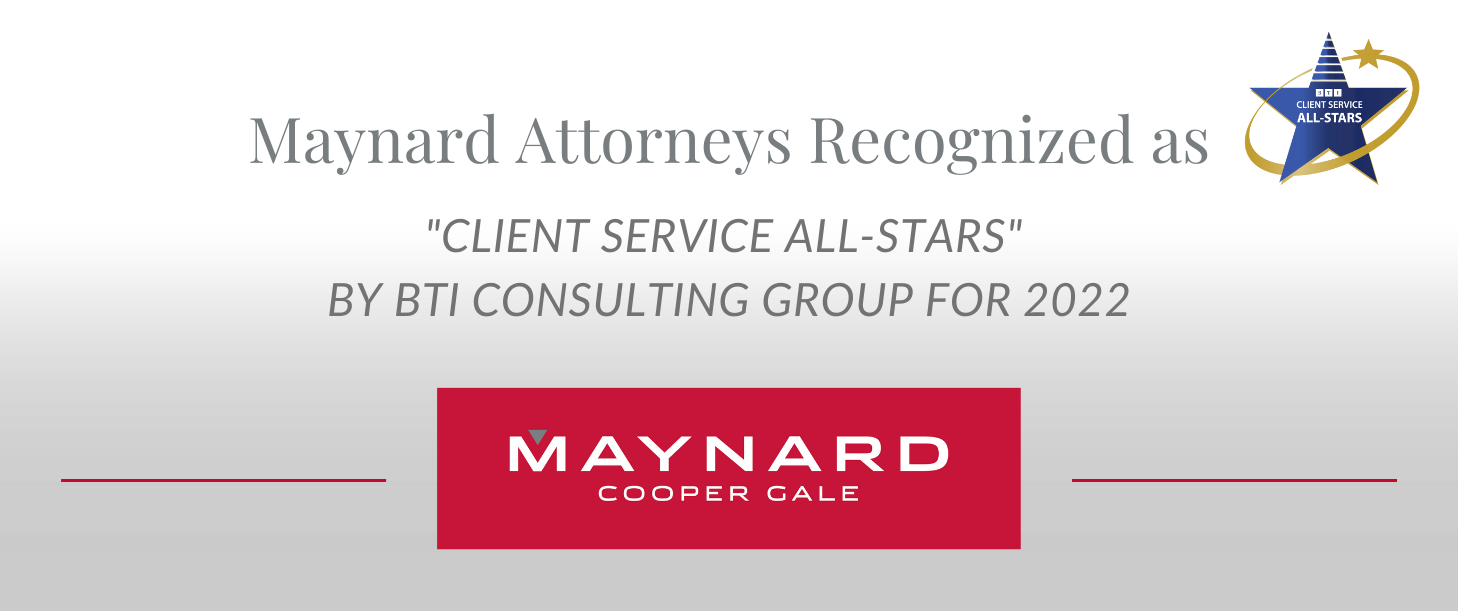 Maynard is pleased to announce that five Shareholders, John Bolus, Maibeth Porter, Jim Pool, John Lanier, and Peter Fruin, were selected by corporate legal decision-makers as "Client Service All-Stars" by BTI Consulting Group for 2022. BTI uses their ongoing Annual Survey of General Counsel to identify the best attorneys based on a set of criteria including, practical, savvy, in the know, able to deal with complexity, available, and nimble. 565 attorneys nationwide were honored for 2022. John Bolus and Maibeth Porter have previously been included on this distinguished list.
John Bolus is Co-Chair of the Financial Institutions, Corporate Governance, & Fiduciary Litigation Practice at Maynard. He has held numerous other positions of leadership in the firm, including serving for many years on the Executive Committee. John has broad experience handling complex civil litigation, including securities class actions and shareholder derivative actions, individual securities arbitrations, individual and class-wide insurance and annuity cases, and a variety of other types of cases. Those cases have involved allegations of fraud, misappropriation, unfair sales or business practices, and lender liability, as well as complex contractual disputes, appraisal claims, business ownership disputes, and business interference claims. He has defended actions in state and federal courts and before arbitration panels across Alabama, the Southeast, and in many other states across the country, including Delaware. John also has substantial experience in defending regulatory matters and managing investigations.
Maibeth Porter is one of the founders of Maynard and formerly served on the Firm's Board of Directors. Her practice focuses on two areas, Financial Services and Product Liability. Maibeth represents the financial services industry in commercial litigation and regulatory risk. In this regard, she deals with representatives of the Federal Reserve, the Alabama State Banking Department, the Consumer Financial Protection Bureau, the Justice Department, and the Securities and Exchange Commission, in both routine regulatory matters and special investigations, including responding to grand jury subpoenas. Maibeth has also designed and conducted compliance reviews and assisted financial institutions in writing and revising their policies and procedures.
Jim Pool has over 30 years of experience representing clients in both the healthcare and the tax exempt sectors, Jim serves as Chair of Maynard's Healthcare and Charitable Foundations-Tax Exempt Organizations practice groups. He represents all types of providers and payors to best position them to respond to quickly changing healthcare regulatory, tax, compliance, and other related matters. He also represents a large number of tax exempt entities, both inside and outside the healthcare industry.
John Lanier is a member of the Healthcare practice at Maynard. John counsels hospitals and physician groups regarding regulatory and compliance matters. He represents clients on matters involving federal and state agencies (CMS, Medicaid, licensing agencies), fraud and abuse, reimbursement, the 340B Drug Pricing Program, HIPAA, privacy and security breaches, EMTALA, and medical staff issues. John frequently speaks to hospital and physician groups on regulatory issues. He is a member of the American Health Lawyers Association, as well as the Health Law Section of the American Bar Association.
Peter Fruin is a Chair of the Securities and Financial Services Practice at Maynard. He represents commercial businesses nationwide in financial litigation. Peter has extensive experience representing brokerage houses in litigation and regulatory matters brought by their customers, employees, competitors, or regulators. He also represents issuers and underwriters in individual cases, derivative cases, and class actions brought by purchasers and shareholders. He has handled cases in more than 30 U.S. states and territories and tried or arbitrated to conclusion more than 100 cases. His work extends to representing other entities in employment, product liability, and/or education-related litigation in both individual cases in state and federal courts as well as representation of companies in alleged state or nationwide class actions.
About Maynard Nexsen
Maynard Nexsen is a full-service law firm with more than 550 attorneys in 24 offices from coast to coast across the United States. Maynard Nexsen formed in 2023 when two successful, client-centered firms combined to form a powerful national team. Maynard Nexsen's list of clients spans a wide range of industry sectors and includes both public and private companies.
Media Contact
Tina Emerson