MAYNARD RECOGNIZED FOR CLIENT SERVICE EXCELLENCE ON THE NATIONAL BTI CLIENT SERVICE A-TEAM
04.06.2022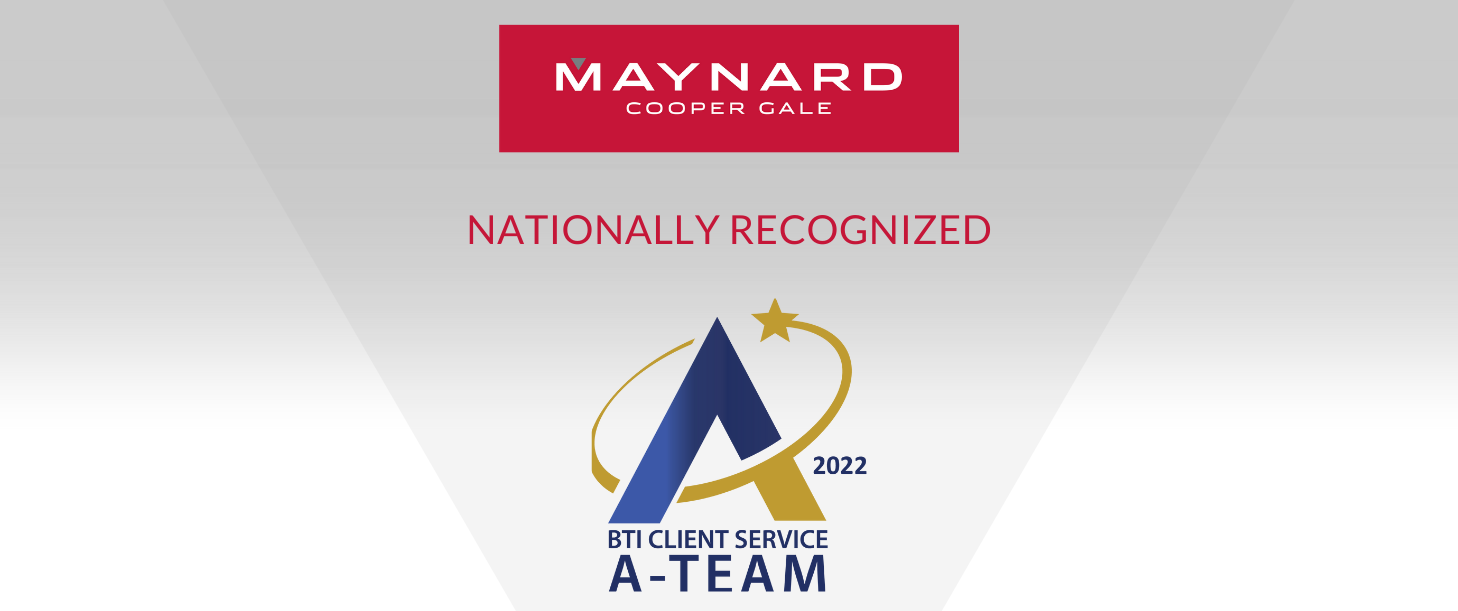 Once again, clients recognize Maynard among the leading law firms delivering superior client service, as reported in the recently released BTI Client Service A-Team: Survey of Law Firm Client Service Performance 2022. Maynard's designation among the Client Service A-Team also includes recognition as a "Client Service Master" among the top 50 midsize firms.
Long considered the gold standard in measuring client service performance by clients and law firms alike, the BTI Client Service A-Team measures service solely from the client's perspective. BTI conducted 350 independent and unbiased interviews with top legal decision makers at large organizations with $700 million or more in revenue. BTI's 2022 report finds that clients are looking for new mission-critical behaviors to define client service, and corporate counsel are selecting law firms accordingly. BTI's research identifies core client service activities, including an ability to deal with complexity, providing practical solutions, fielding the absolute best team, exhibiting a commitment to help, and delivering value.
In November 2021, four of Maynard's litigation practices were also nationally recognized by BTI as the "best of the best" in the BTI Litigation Outlook 2022 – Post Pandemic and Beyond Report. The Firm's Cybersecurity and Privacy practice, Intellectual Property practice, and Securities and Financial Services Litigation practice were all ranked among the top 25 firms across the country in their respective areas. Maynard's Complex Commercial Litigation practice was among the top 50 firms.
About BTI
For more than 30 years, the BTI Consulting Group has helped clients strategically drive revenue, boost performance, attract and retain clients, develop more business in new and existing markets, and create enduring relationships with data-driven customized programs and solutions. BTI conducts and analyzes one-on-one interviews with C-level executives to define their expectations, needs, priorities, preferences, hiring decisions, and opinions of the professionals with whom they work. This level of research has established BTI as the industry leader in conducting independent research on how clients acquire, manage, and evaluate their professional services providers.
About Maynard Nexsen
Maynard Nexsen is a full-service law firm with more than 550 attorneys in 24 offices from coast to coast across the United States. Maynard Nexsen formed in 2023 when two successful, client-centered firms combined to form a powerful national team. Maynard Nexsen's list of clients spans a wide range of industry sectors and includes both public and private companies.
Media Contact
Tina Emerson