Maynard Recognized as a BTI Top Recommended Firm
12.02.2022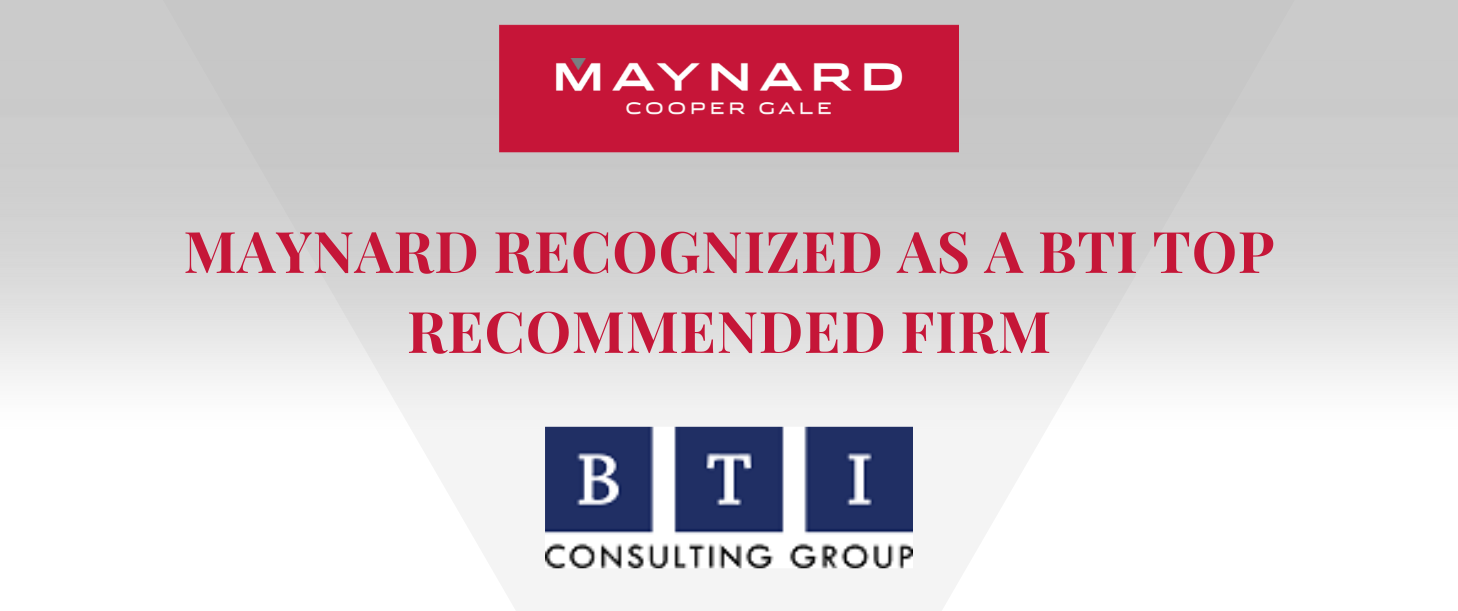 Maynard is pleased to announce that the Firm will be featured among other top tier firms in the BTI Most Recommended Law Firms 2022 Report. This list is based on more than 340 interviews conducted with top legal decision makers from organizations with $700 million or more in revenue. For this report, BTI relies on detailed, anonymous telephone-held interviews as part of an Annual Survey of General Counsel.
Superior client service stands as the motivating force for unsolicited law firm recommendations. These personal endorsements represent Maynard's integrity and promote the Firm's client satisfaction efforts. Other contributing factors for being named on the list of most recommended firms include legal prowess and competence in providing value.
This feature is Maynard's second recognition this year. In July, the Firm was named amongst "BTI's Associate Satisfaction A-Listers 2022: BTI's Survey of Law Firms Where Associates are Happiest." This distinction of BTI Associate Satisfaction Leader resulted from a large-scale survey which garnered over 4,000 responses.
The BTI Consulting Group's in-depth and independent research assesses every element of how clients manage and evaluate their professional service providers in an effort to create enduring relationships. As a distinguished leader of customer feedback, BTI utilizes a customized approach of interviews coupled with an analysis of client service details. Each interview is structured to conduct compelling research and impress the client with the questions, process, and thoughtful approach. For 30 years, BTI has helped professionals boost client service.
To read further about BTI's Most Recommended Law Firms, click here.
About Maynard Nexsen
Maynard Nexsen is a full-service law firm with more than 550 attorneys in 24 offices from coast to coast across the United States. Maynard Nexsen formed in 2023 when two successful, client-centered firms combined to form a powerful national team. Maynard Nexsen's list of clients spans a wide range of industry sectors and includes both public and private companies.
Media Contact
Tina Emerson