Maynard Gains 5 Experienced Attorneys
10.19.2022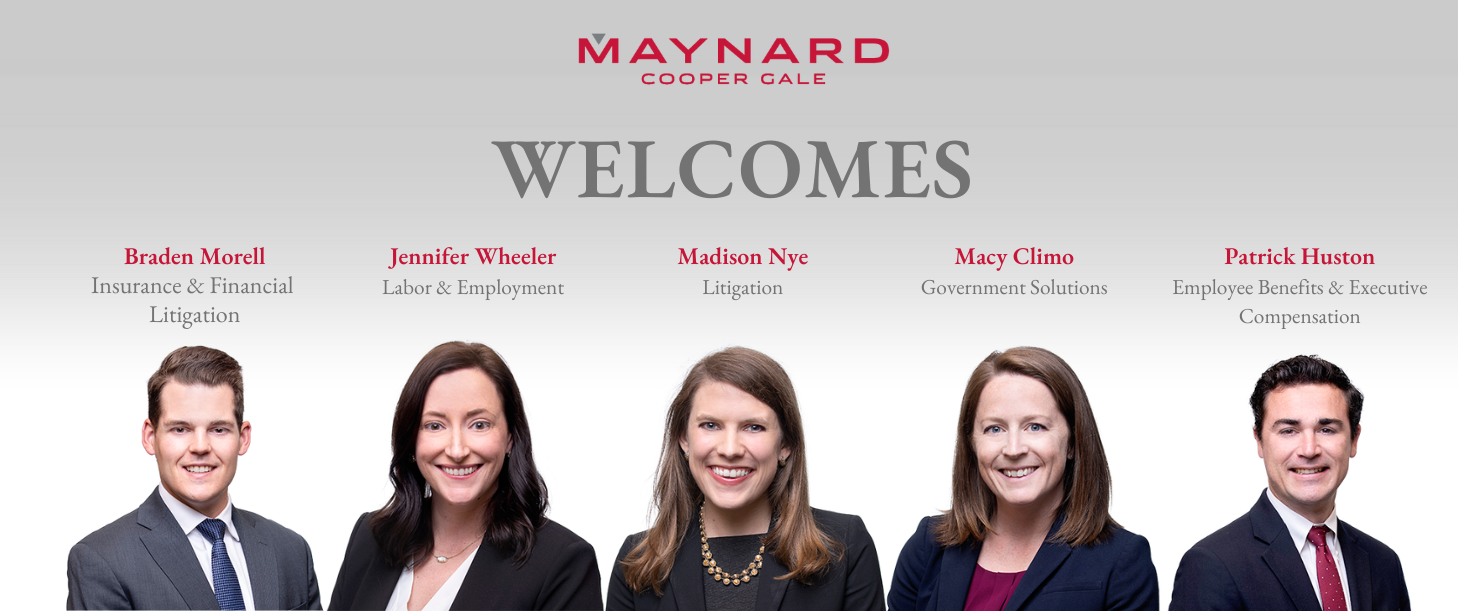 Maynard is pleased to announce the addition of five attorneys to our Government Solutions, Employee Benefits & Executive Compensation, Insurance & Financial Litigation, Litigation, and Labor & Employment Groups.

Macy Climo is an Associate in Maynard's Government Solutions Group. She focuses on a wide variety of contracting matters, offering distinguished assistance in matters of compliance and procurement law. Coupled with a knack for in-depth research, Climo's familiarity with complex regulations ensures the highest quality representation for her clients. Before joining Maynard, Climo worked as an Associate for a national law firm where she advised clients on various federal and state regulations. She earned her J.D. from Vanderbilt University Law School and a B.A., magna cum laude, from The College of William & Mary.
Patrick Huston is an Associate in Maynard's Employee Benefits & Executive Compensation group. Huston assists private and public companies with all aspects of employee, contractor, and director compensation and benefits. He has experience preparing all types of compensation arrangements, including equity, bonus, and incentive plans, and individual award agreements. Patrick also assists with sizeable mergers and acquisitions, performing benefits-related due diligence, drafting deal-critical employment agreements, retention agreements, and restrictive covenant agreements. With his extensive tax and accounting background, he regularly advises clients on tax issues related to all forms of benefits, including federal income tax, FICA, and IRC 280G. Prior to joining Maynard, Huston spent several years working as a corporate and benefits/executive compensation Associate in an international law firm, as well as a regional law firm in Nashville. During that time, he handled a wide range of employee benefits, tax, and executive compensation matters. Upon graduating from law school, Huston served as a Judicial Extern to the Honorable Albert G. Lauber of the United States Tax Court in Washington, D.C. He earned his LL.M. in Taxation from Georgetown University Law Center, receiving recognition as a Graduate Tax Scholar. He obtained his J.D., magna cum laude, from The University of Mississippi School of Law. He also holds a M.Acc. in Taxation and a dual B.S.B.A. in Accounting/Professional Accountancy and Finance from the University of West Florida.
Braden Morell is an Associate in Maynard's Insurance and Financial Litigation Group and its Appellate and Post-Verdict Practice Group. He focuses his practice on representing insurance companies in a variety of disputes. Morell will assist clients in all aspects of their businesses, including compliance, development, litigation, and appellate matters. Prior to joining the firm, he served as a law clerk to the Honorable Danny C. Reeves in the United States District Court for the Eastern District of Kentucky. He also clerked for the Honorable Andrew L. Brasher in the United States Courts of Appeals for the Eleventh Circuit. Morell received his J.D. from Vanderbilt Law School where he served as Chief Justice of the Moot Court Board. During his time at Vanderbilt, he received several awards for written and oral advocacy. He holds a B.S. in Civil Engineering from The University of Alabama.

Madison Nye is an Associate in Maynard's Litigation section, focusing her practice on defending clients in commercial business and product liability litigation, and assisting with criminal defense and investigations, including federally appointed CJA cases. Prior to joining Maynard, Nye served as a law clerk for Judge Karon O. Bowdre of the U.S. District Court for the Northern District Court of Alabama and Justice Jay Mitchell of the Supreme Court of Alabama. She earned her J.D. from Washington and Lee University School of Law, where she served as Editor in Chief of the Washington and Lee Journal of Civil Rights and Social Justice. She received her B.A., cum laude, in Politics, Philosophy, and Economics from The King's College in New York City. Before law school, Nye was a 2015 Robert Novak Journalism Fellow, completing a fellowship project focused on criminal-justice reform and rehabilitation efforts.
Jennifer Wheeler is an attorney in Maynard's Labor & Employment Practice Group. With a record of successful company defense, she devotes her practice to the representation of management in all areas of labor and employment law. Wheeler's extensive experience benefits clients in a multitude of EEO and employment-related matters, including advising and litigating claims arising under the Family and Medical Leave Act, the Fair Labor Standards Act, Title VII of the Civil Rights Act, Section 1981, the Age Discrimination in Employment Act, the Americans with Disabilities Act, and other analogous state discrimination and tort laws. She also has experience litigating and providing advice relating to the enforceability of employment agreements and non-compete agreements and conducting investigations into workplace issues. Before joining Maynard, Wheeler clerked for two federal judges and was a partner at a Birmingham law firm, primarily practicing business and commercial litigation and employment law. She earned her J.D., cum laude, from the University of Alabama School of Law and a B.S., summa cum laude, from the University of Alabama.
About Maynard Nexsen
Maynard Nexsen is a full-service law firm with more than 550 attorneys in 24 offices from coast to coast across the United States. Maynard Nexsen formed in 2023 when two successful, client-centered firms combined to form a powerful national team. Maynard Nexsen's list of clients spans a wide range of industry sectors and includes both public and private companies.
Related Capabilities
Media Contact
Tina Emerson