Maynard Adds Seasoned Corporate Attorney
04.19.2021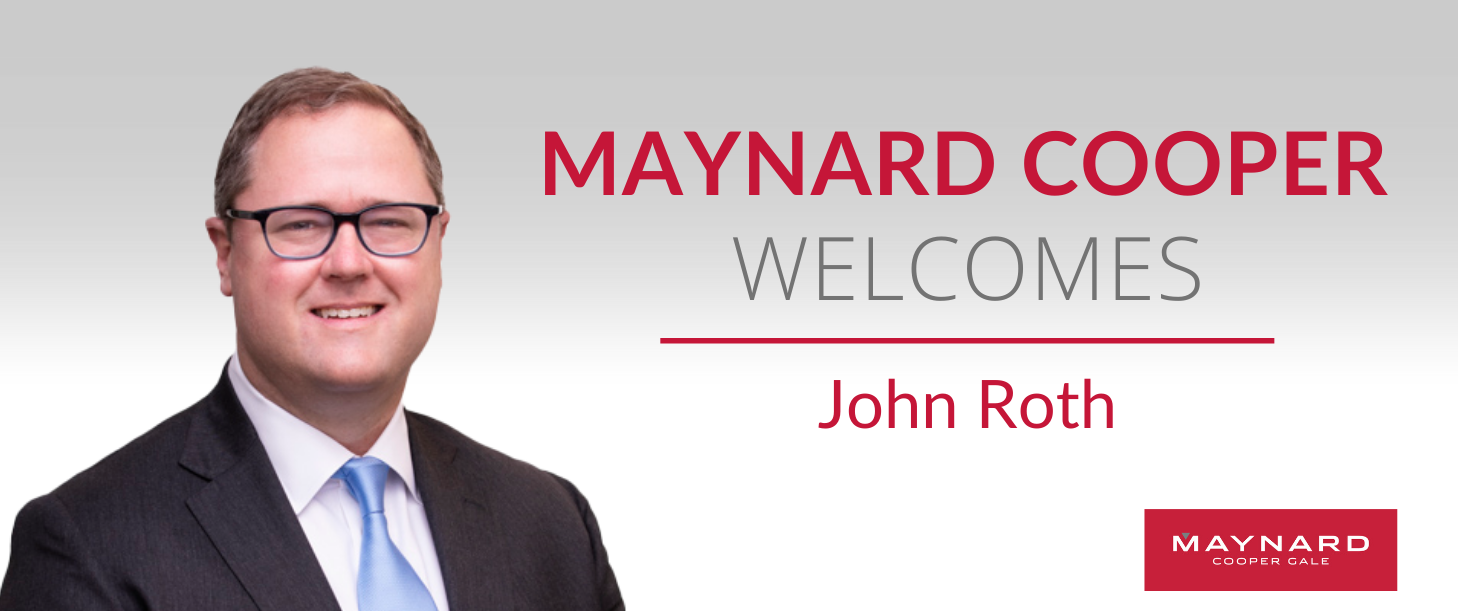 Maynard & Gale (Maynard) is pleased to welcome John Roth as a Shareholder in the Firm's Corporate, Securities & Tax Practice.
Mr. Roth has returned to Birmingham, bringing eighteen years of experience working both in private practice and in-house in the financial and investment sectors. He focuses his practice on providing a full suite of legal and compliance services to investment management firms and other financial services companies, as well as corresponding services to investors in various financial products. Prior to joining Maynard, Roth served in multiple in-house legal and compliance positions in Alabama, New York, and Connecticut, including serving as the General Counsel and Chief Compliance Officer of a hedge fund management firm in New York and Vice President and Deputy General Counsel of a financial services firm with offices in New York, Hartford (CT), Los Angeles, and London. He advises businesses on multiple investment strategies, including distressed investment, special situations, and collateralized loan obligation strategies, as well as a collateralized fund obligation strategy.
"John brings considerable knowledge and first-hand experience to Maynard's sophisticated platform of services we provide to our clients who are entrenched in asset and fund management," said Michael Johnson, Chair of Maynard's Corporate, Securities & Tax Practice. "John's years of experience as general counsel to market leaders in the financial services and investment management industry and his expertise in the compliance field further broaden the depth our group has when it comes to providing industry leading service to our clients. We are looking forward to all that John will accomplish here at Maynard."
"I am excited to return to Birmingham and join the outstanding group at Maynard," adds Roth. "Having worked with the Maynard team for over a decade, I cannot say enough good things about them and their client-focused, pragmatic approach. I look forward to using my experience on the client side to serve as a trusted advisor to financial and other businesses, both locally and nationally, as they navigate through legal and regulatory challenges."
Maynard's Corporate, Securities & Tax Practice is comprised of more than 75 highly skilled and disciplined lawyers who handle a wide range of complex business, tax, and transactional matters for publicly traded companies, privately held companies, private equity and venture capital investment firms, and nonprofits across the industry spectrum. We use a team approach to deliver optimum value throughout all engagements including mergers, acquisitions, dispositions, joint ventures, investments, contracts, financing, economic development, and capital raises.
About Maynard Nexsen
Maynard Nexsen is a full-service law firm with more than 550 attorneys in 23 offices from coast to coast across the United States. Maynard Nexsen formed in 2023 when two successful, client-centered firms combined to form a powerful national team. Maynard Nexsen's list of clients spans a wide range of industry sectors and includes both public and private companies.
Media Contact
Tina Emerson