MAYNARD ADDS WEST COAST LAWYER TO NATIONAL INSURANCE PRACTICE
02.24.2021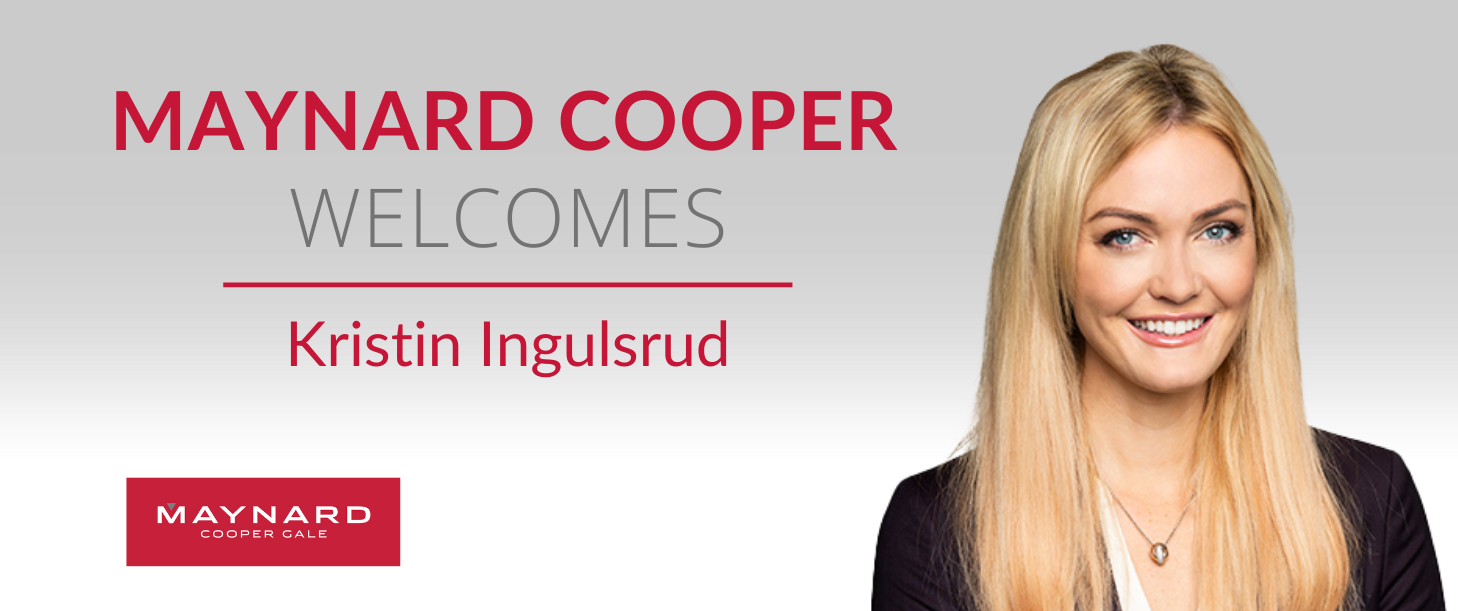 LOS ANGELES, CA (February 24, 2021) — Maynard & Gale (Maynard) is pleased to announce that Kristin A. Ingulsrud has joined the Firm's office in Los Angeles as a Senior Associate in the Insurance and Financial Services Practice.
Ingulsrud is an experienced lawyer who focuses her practice on insurance coverage advice and representing insurers in "bad faith" actions. Her clients include global insurance and financial services companies with cases across the U.S.
"We are excited to have Kristin join our national team of insurance attorneys," said Ted Holt, Chair of the Firm's Insurance and Financial Services Practice. "Kristin's background is a perfect match for our clients."
Ingulsrud was previously with the Los Angeles office of Freeman, Mathis & Gary. She earned her JD from Pepperdine University School of Law where she was a Senior Staff Member of the Pepperdine Law Review. She also holds a Bachelor's, magna cum laude, in English and Political Science from California Baptist University.
Ingulsrud's move to Maynard comes on the heels of the addition of Logan Gould to the Insurance and Financial Services Practice in New York City. Gould has nearly a decade of experience in the life, health, and disability field with hands-on experience navigating policy drafting, compliance, implementation, and claims administration. Before joining Maynard, Gould was Assistant Vice President & Senior Counsel at The Guardian Life Insurance Company of America, where he was company lead for Group Insurance litigation and interpleaders.
Maynard's Insurance and Financial Services Practice consists of over thirty-five (35) lawyers who practice primarily in this area of law. Identified in BTI Consulting Group's Industry Power Rankings as a "core, go-to firm" for the insurance industry, Maynard consistently receives national recognition for excellence in insurance law, including U.S. News and Best Lawyers' "Best Law Firms." Maynard's Insurance and Financial Services Practice has successfully represented insurance carriers throughout the United States for the last twenty years serving as primary outside litigation counsel, national trial counsel, and class action counsel for the industry's leading companies.
About Maynard Nexsen
Maynard Nexsen is a full-service law firm with more than 550 attorneys in 24 offices from coast to coast across the United States. Maynard Nexsen formed in 2023 when two successful, client-centered firms combined to form a powerful national team. Maynard Nexsen's list of clients spans a wide range of industry sectors and includes both public and private companies.
Media Contact
Tina Emerson