Maynard Adds Depth to National Footprint
10.06.2022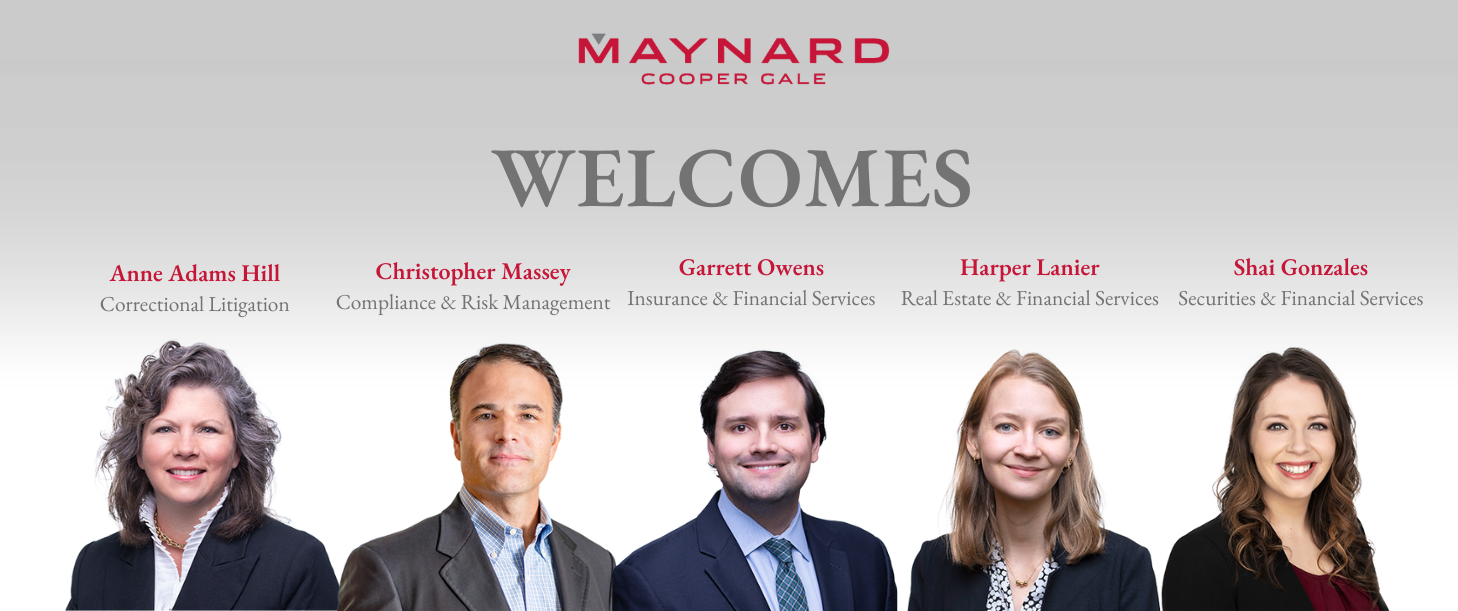 Maynard is pleased to announce the addition of five attorneys to our Correctional Litigation, Compliance & Risk Management, Insurance, Real Estate, and Securities & Financial Services Litigation Groups.
"Maynard is excited to welcome this group of experienced attorneys," said Chief Talent Officer Stephanie Mays. "They bring unique talent and experience that will enhance our services to our clients throughout the country while adding depth to their respective practice groups."
Anne Adams Hill is an Attorney in Maynard's Correctional Litigation Practice Group. Prior to joining the Firm, Hill served as General Counsel for the Alabama Department of Corrections (ADOC) where she provided legal counsel to the Commissioner and other executive level decision makers in addition to serving as a liaison with external stakeholders, including the Office of the Attorney General and the Office of the Governor. She then earned the position of Chief of Staff for the Alabama Department of Corrections. While serving as Chief, she oversaw the daily activity of a prison system operating 26 correctional facilities. She effectively strategized to create operational efficiency system-wide, including the implementation of a host of security, medical and mental health, and infrastructure-related improvements. Hill served as an Assistant Attorney General in the Capital Litigation Division of the Alabama Attorney General's Office from 2001-2006. While in that position, she represented the State in capital murder cases in state and federal courts on both direct appeal and in post-conviction proceedings. Most recently Hill served as Special Litigation Counsel in the Office of the Attorney General where she represented the interests of the Attorney General in corrections-related litigation, served as liaison to the ADOC, and assisted with capital litigation matters. Hill obtained her J.D. from the University of Alabama School of Law. Prior to law school, she worked as assistant to the Chief of Staff for the Office of United States Senator Richard C. Shelby in Washington D.C. She also holds a B.A. in Telecommunications from the University of Alabama.
Christopher Massey is a Shareholder in the firm's Compliance and Risk Management group. Massey's practice focuses on designing and implementing corporate governance, risk, and compliance programs. He also handles a wide range of civil litigation and regulatory matters, including representing securities firms and technology companies in matters brought by customers, employees, competitors, or regulators. He has extensive experience performing pre-transaction due diligence and conducting internal corporate investigations. Prior to Maynard, Massey worked in both private practice and the corporate sector, which included serving as the acting general counsel or compliance officer for several entities. As a Certified Financial Planner®, he advised high net worth individuals on estate, trust, and business planning strategies. He also served as an independent advisor and advocate for professional lacrosse players, representing them in contract negotiations and workers' compensation claims. Massey received his J.D. from Brooklyn Law School and holds a B.A. from Princeton University.
Garrett Owens is an Associate in Maynard's Insurance and Financial Services Group. He has pursued class claims in various state and federal courts. He has represented clients in data breach and data privacy claims, as well as other commercial and civil litigation that resulted in nationwide settlements. Owens earned his J.D. from the University of Alabama School of Law where he served as senior editor for Alabama Law Review. He also graduated summa cum laude with a B.A. of Arts in Political Science from Union College in Schenectady, New York.
Harper Lanier is an Associate in Maynard's Real Estate & Financial Services Practice Group. Working with buyers, sellers, developers, landlords, tenants, and lenders across the U.S. in a broad range of commercial real estate transactions, Maynard's Real Estate experience blankets the industry spectrum. From office and industrial to retail, hospitality, and multifamily transactions, Harper provides thoughtful counsel and thorough guidance throughout each stage of the drafting, documentation, and negotiations process. Lanier received her J.D. from Washington & Lee University School of Law where she was the Lead Articles Editor for the Journal of Civil Rights and Social Justice. She holds a B.A. in Political Science from Appalachian State University.
Shai Gonzales is an Associate in Maynard's Securities and Financial Services Litigation Group. Prior to joining Maynard, she clerked for the Honorable Rebecca Goodgame Ebinger for the U.S. District Court for the Southern District of Iowa. Gonzales received her J.D. from Creighton University School of Law where she graduated top of her class. She holds a B.A. in Political Science from Augustana College.
About Maynard Nexsen
Maynard Nexsen is a full-service law firm with more than 550 attorneys in 24 offices from coast to coast across the United States. Maynard Nexsen formed in 2023 when two successful, client-centered firms combined to form a powerful national team. Maynard Nexsen's list of clients spans a wide range of industry sectors and includes both public and private companies.
Related Capabilities
Media Contact
Tina Emerson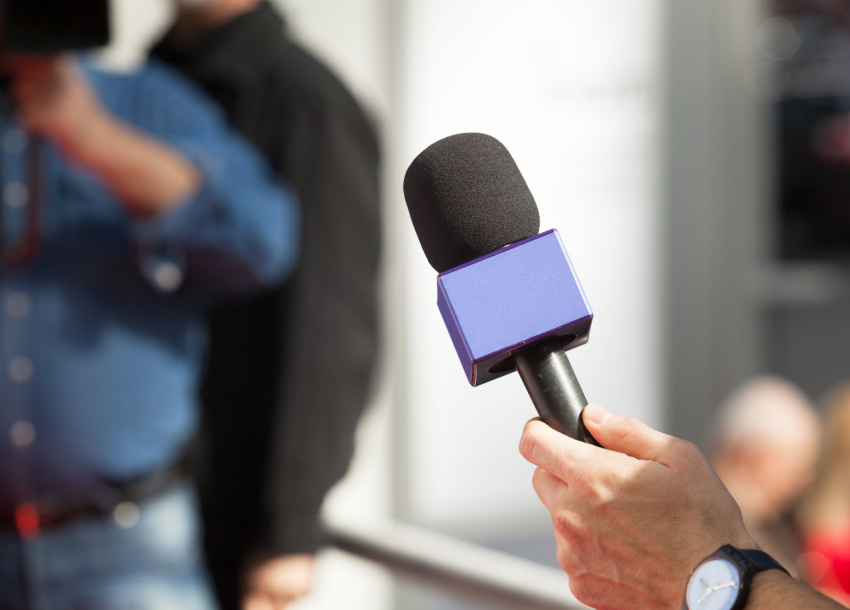 Related Professionals