Angela O'Neal on Data Governance
07.08.2020
Media Mention | Columbia Regional Business Report
Columbia Regional Business Report recently featured an article by Angela O'Neal, director of Nexsen Pruet's electronic discovery and information management subsidiary, Nextra Solutions.
In "Data Governance: Too risky to Treat Like a Buzzword," Angela details the increased risks of data security and preservation from employees working from home, and offers considerations for businesses to ensure safe and effective data governance measures.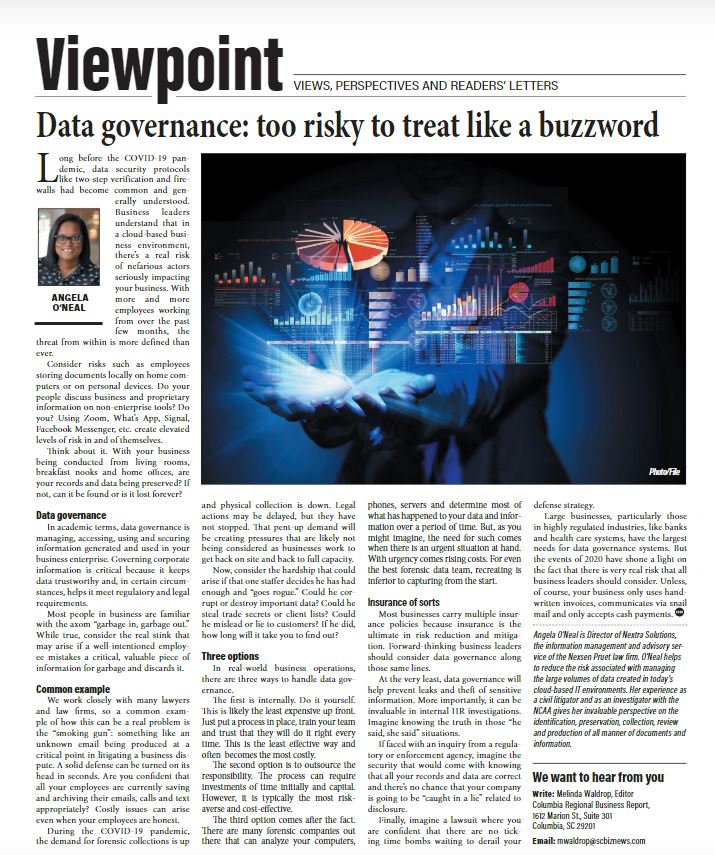 To read the article in Columbia Regional Business Report on page 31 , click here.
To read the article on Nexsen Pruet's website, click here.
---
Nexsen Pruet, LLC is one of the largest law firms in the Carolinas, with more than 200 professionals across 8 offices providing regional capabilities with international strengths.
About Maynard Nexsen
Maynard Nexsen is a full-service law firm with more than 550 attorneys in 23 offices from coast to coast across the United States. Maynard Nexsen formed in 2023 when two successful, client-centered firms combined to form a powerful national team. Maynard Nexsen's list of clients spans a wide range of industry sectors and includes both public and private companies.
Media Contact
Tina Emerson