Maynard Enters Austin Market with Soltero Sapire Murrell Merger
01.03.2023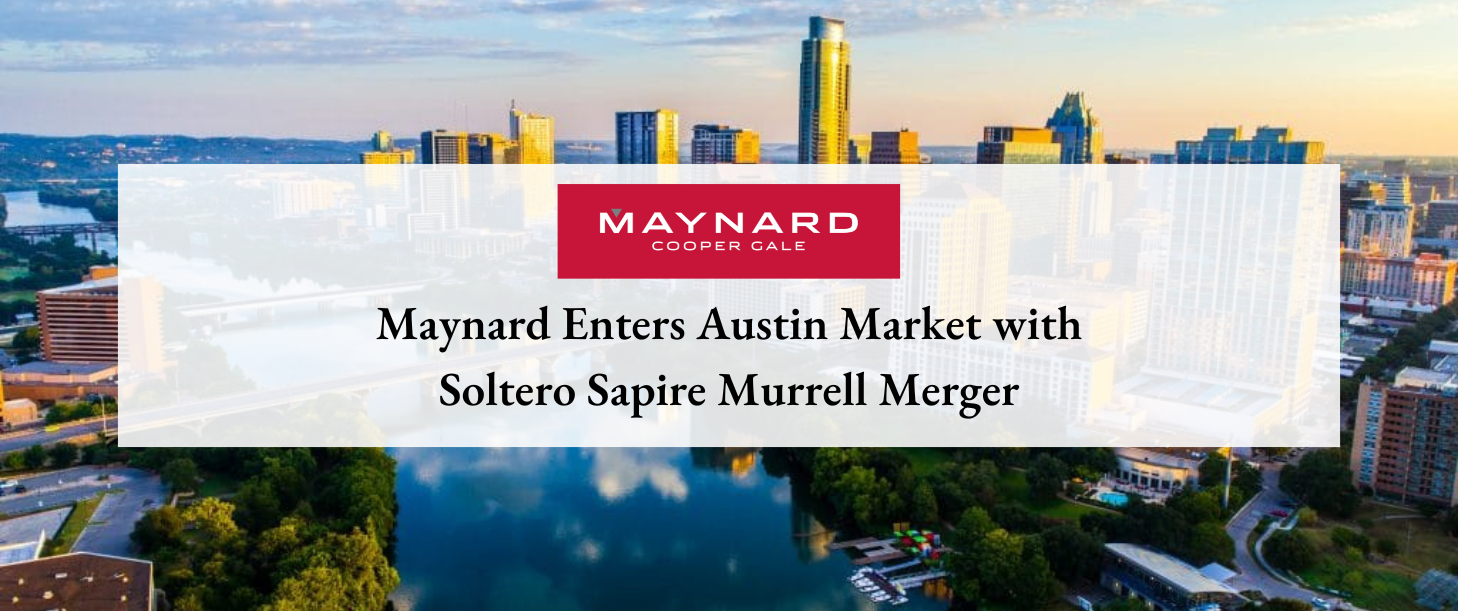 Today, nationally recognized law firm Maynard Cooper & Gale (Maynard) announced an expansion into the Austin, Texas market and the growth of its Texas litigation and transactional practices.
Soltero Sapire Murrell PLLC, a law firm based in Austin, TX, will be merging into Maynard. They are a four-attorney boutique litigation law firm based in Austin, Texas with a statewide and national litigation practice.
This union serves as the latest market extension for Maynard, with the new Texas location serving as the second office in Texas and the fifteenth overall office in Maynard's national practice.
Soltero Sapire Murrell is a respected fixture in Texas's legal scene and maintains highly regarded practices within the litigation realm, including but not limited to Construction, Employment, and Insurance. Their team has been led by trial lawyers Greg Sapire and Carlos Soltero, both of whom will join as shareholders. These litigators have established deep roots and broad relationships in the Texas bar that will be vital to Maynard's expansion.
Says Carlos R. Soltero, Austin office shareholder, "Having worked with Maynard lawyers for more than a decade, we've had tremendous respect and appreciation for the firm for some time. Over the past few months, we concluded that Maynard's track record of successful growth and legal excellence throughout the country will be conducive to the growth of our own respective practices in Texas and beyond. We are confident that our client-centric cultures will mesh seamlessly. We remain committed to providing thoughtful, practical solutions, and custom-tailored strategies for legal problems.
Moving forward, Maynard will now build on the synergies and collective strength generated by these moves, broadening and deepening the Firm's work within the tech, real estate, and finance sectors.
As a top location for both Fintech and Life Sciences, Austin offers an incredible opportunity to grow further in Texas and allows access to other high-value markets across the state. Additionally, we anticipate strong synergies between Maynard's Dallas, Nashville, Orlando and San Francisco teams within the practice areas of Tech, Real Estate, Intellectual Property, Product Liability, and Financial Services Litigation.
"We've seen great success with our Dallas office so our Firm has been exploring additional opportunities in Texas for some time. Our existing Texas attorneys already see a significant amount of client service in Austin so this dynamic, high-growth market made a natural next step in our expansion. Our attorneys have had the opportunity to work with Greg Sapire and Carlos Soltero over the years and developed an immense respect for them, their success, and their way of doing business with their clients. We believe the interconnectedness of our practices and markets will be a mutually beneficial and synergistic combination for ourselves and, most importantly, our clients. We are very excited about the future of Maynard in Austin and Texas as a whole," said Jeff Grantham, Managing Shareholder of Maynard Cooper & Gale.
About Maynard Cooper & Gale
Maynard Cooper & Gale (Maynard®) is a full-service law firm with more than 350 attorneys representing established national and international companies, emerging businesses, investment firms, government entities, municipalities, and nonprofits. Our entrepreneurial culture inspires collaboration among our attorneys, resulting in comprehensive legal solutions and seamless client experiences. Maynard serves clients across the United States and globally from its offices in Alabama (Birmingham, Huntsville, Mobile, and Montgomery), California (Los Angeles and San Francisco), Florida (Miami and Orlando), Georgia (Atlanta), Iowa (Des Moines), New York (New York City), Tennessee (Nashville), Texas (Austin and Dallas), and Washington, D.C.
About Maynard Nexsen
Maynard Nexsen is a full-service law firm with more than 550 attorneys in 23 offices from coast to coast across the United States. Maynard Nexsen formed in 2023 when two successful, client-centered firms combined to form a powerful national team. Maynard Nexsen's list of clients spans a wide range of industry sectors and includes both public and private companies.
Media Contact
Tina Emerson