MAYNARD BOLSTERS INSURANCE PRACTICE WITH TEAM OF LITIGATORS IN LOS ANGELES
02.08.2022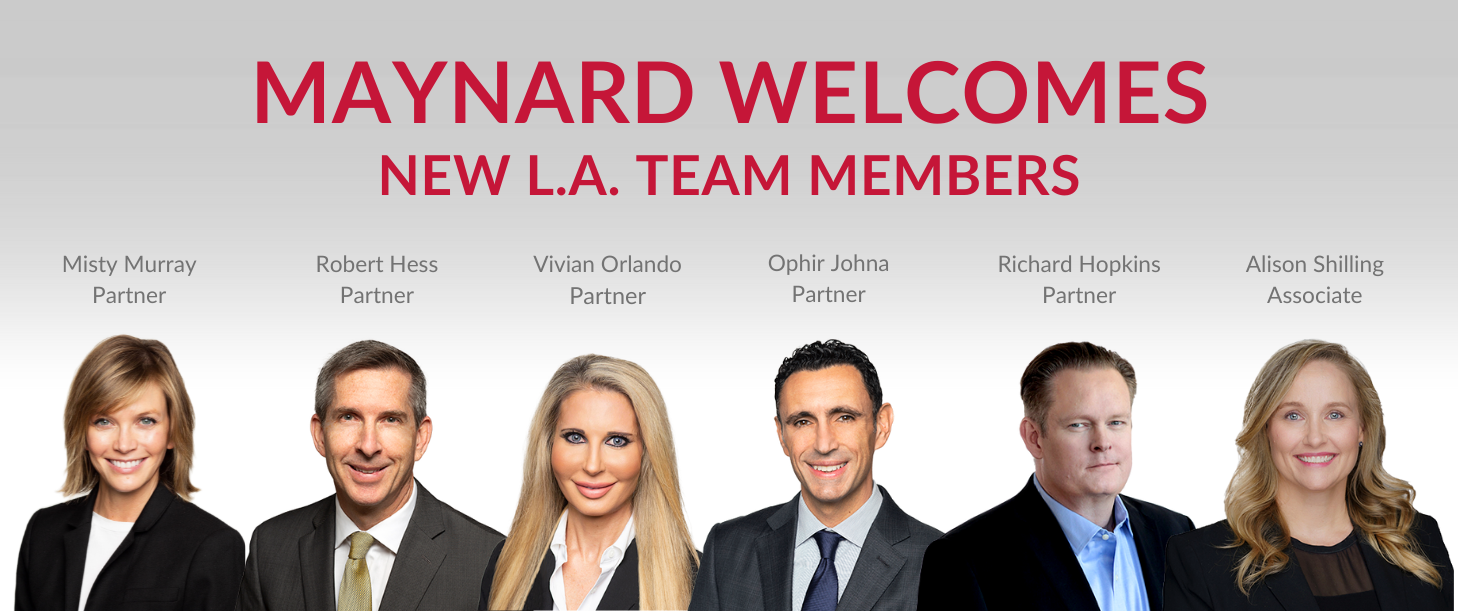 Maynard is pleased to announce the expansion of its Los Angeles office with the addition of Misty Murray, Robert Hess, Vivian Orlando, Ophir Johna, Richard Hopkins, and Alison Shilling. Formerly with an Am Law 200 firm, these attorneys join Maynard's nationally recognized Insurance and Financial Services Litigation Practice. Ms. Murray, Mr. Hess, Ms. Orlando, Mr. Johna, and Mr. Hopkins join as Partners and Ms. Shilling as an Associate.
"This talented group brings significant insurance industry depth and synergies to Maynard," said Jeff Grantham, Managing Shareholder. "We recognize the immediate impact they will have on the extensive list of legal services we provide clients in the insurance sector, as well as our presence in Southern California where many of our existing clients have business operations."
"We are excited to have Misty, Robert, Vivian, Ophir, Richard, and Alison join our team," said Ted Holt, Chair of Maynard's Insurance and Financial Services Litigation Practice. "Misty, Robert, Vivian, Ophir, and Richard have worked together for more than a decade, serving large, established clients and providing the same level of client-focused service that drives Maynard. They are experienced and ready to hit the ground running, and we look forward to them collaborating with the lawyers across our national footprint. Alison brings both in-house and outside experience in the direct writing and reinsurance arenas. We're fortunate to have the entire group on board."
Misty Murray is a seasoned attorney with experience handling a diverse range of life, health, and disability insurance litigation in state and federal courts. She counsels and defends insurers in matters involving coverage disputes, unfair competition, welfare benefits plans concerning ERISA benefit claims and breach of fiduciary duty, as well as insurance bad faith. She advises insurers and managed care entities in matters involving provider contract and billing disputes, medical necessity, level of care, and coordination of benefits. In her previous firm, Ms. Murray was a member of the executive committee and served as the former leader of the firm's Business Litigation Practice Group and co-chair of the women's affinity group. Ms. Murray earned her J.D., magna cum laude, from Southwestern University School of Law and holds a Bachelors from George Washington University.
Robert Hess focuses his practice on a wide range of disability, life, and health insurance litigation. Practicing at both the trial and appellate levels, Mr. Hess has litigated hundreds of cases, primarily defending insurers in cases involving insurance breach of contract and bad faith claims and ERISA-governed cases involving employee welfare benefit plans. He also advises his insurer clients on minimizing their exposure to bad faith litigation. Mr. Hess has recently served as Co-Chair of the Definitive Disability Conference, a bi-annual disability industry conference. Recognized by the Best Lawyers in America© for Commercial Litigation, Mr. Hess earned his J.D. from Loyola Law School and holds a Bachelors from the University of California at Los Angeles.
Vivian Orlando handles a diverse range of sophisticated business, insurance, and investment-related litigation, including significant class actions and other complex actions. Ms. Orlando has litigated and advised clients on pre-litigation, post-litigation, and general business litigation in hundreds of cases in state and federal courts. Her practice focuses on life, health, and disability insurance. She also handles matters on behalf of businesses and insurance companies relating to illegal and improper conduct of agents, producers, employees, and officers. She also has a state and federal appellate practice. Ms. Orlando earned her J.D., cum laude, from Boston University, where she also holds an M.B.A. She has a graduate degree from Georgetown University, where she earned an M.S. with distinction, and an undergraduate degree from the University of Southern California, where she earned a B.A., cum laude.
Ophir Johna represents insurers and health care plans in state and federal courts, where he focuses his practice in the areas of life, health, disability, and long-term care disputes ranging from matters involving bad faith and punitive damage exposure to ERISA-governed litigation. He also has experience representing health insurers and health care plans in payor-provider disputes and litigating matters involving agent and broker sales practices as well as insurance and annuity suitability. In both state and federal courts, Mr. Johna has successfully defended insurers, health care plans, and brokers in hundreds of matters and all phases of litigation, including summary judgment and trial. He earned his J.D. from Southwestern University School of Law and holds a Bachelors from the University of California at Los Angeles.
Richard Hopkins focuses his practice on complex litigation and regulatory matters, emphasizing health care payor/provider disputes, business practices, claims handling practices, reinsurance, trade secrets, insolvency, and inter-company disputes. He regularly represents business entities, including insurers, health plans, underwriters, and holding companies in various contexts, such as federal and state class actions, arbitrations, administrative hearings, regulatory investigations, and market conduct examinations. Mr. Hopkins' legal career includes time working for a producer and distributor of video games, where his practice consisted primarily of transactional work, as well as intellectual property registration and enforcement. Prior to his legal career, he was a senior analyst at a trial consulting firm, where he provided jury consulting services on a wide range of litigation matters. Mr. Hopkins earned his J.D. from the University of California at Los Angeles School of Law, where he also obtained his Bachelors.
Alison Shilling defends the interests of businesses and individuals in litigation and has extensive experience advising on matters involving reinsurance and insurance treaties and contracts, both domestically and internationally. With more than 15 years of experience, Ms. Shilling handles arbitration, as well as litigation. Prior to joining Maynard, she worked as Assistant Claims Counsel for a reinsurance company in Connecticut. Ms. Shilling's background also includes nearly a decade of private practice with firms in Los Angeles and New York, where she handled complex commercial litigation, including insurance, reinsurance, and insurance coverage matters, as well as product liability and environmental contamination disputes. Ms. Shilling earned her J.D. from Fordham University School of Law, cum laude, and holds a Bachelors from George Washington University.
At Maynard, we have built a premier national team representing insurance and financial services companies in a variety of contexts throughout the country. Over the last five years, Maynard's insurance attorneys have appeared in courts in 44 states and handled appeals in six federal circuits, routinely winning dispositive motions, trials, and appeals for clients in the most business-hostile venues. The Insurance Practice has experienced tremendous growth outside of Alabama over the last two years, including the addition of seasoned laterals in New York, Miami, Des Moines, and now Los Angeles. The Firm is actively interviewing additional associates to support the new group of attorneys in Los Angeles. Additional information on Maynard's Insurance Practice can be found here.
About Maynard Nexsen
Maynard Nexsen is a full-service law firm with more than 550 attorneys in 24 offices from coast to coast across the United States. Maynard Nexsen formed in 2023 when two successful, client-centered firms combined to form a powerful national team. Maynard Nexsen's list of clients spans a wide range of industry sectors and includes both public and private companies.
Related Capabilities
Media Contact
Tina Emerson