Blog
04.19.2022
GAO Report: Key Takeaways for DOD Space System Acquisitions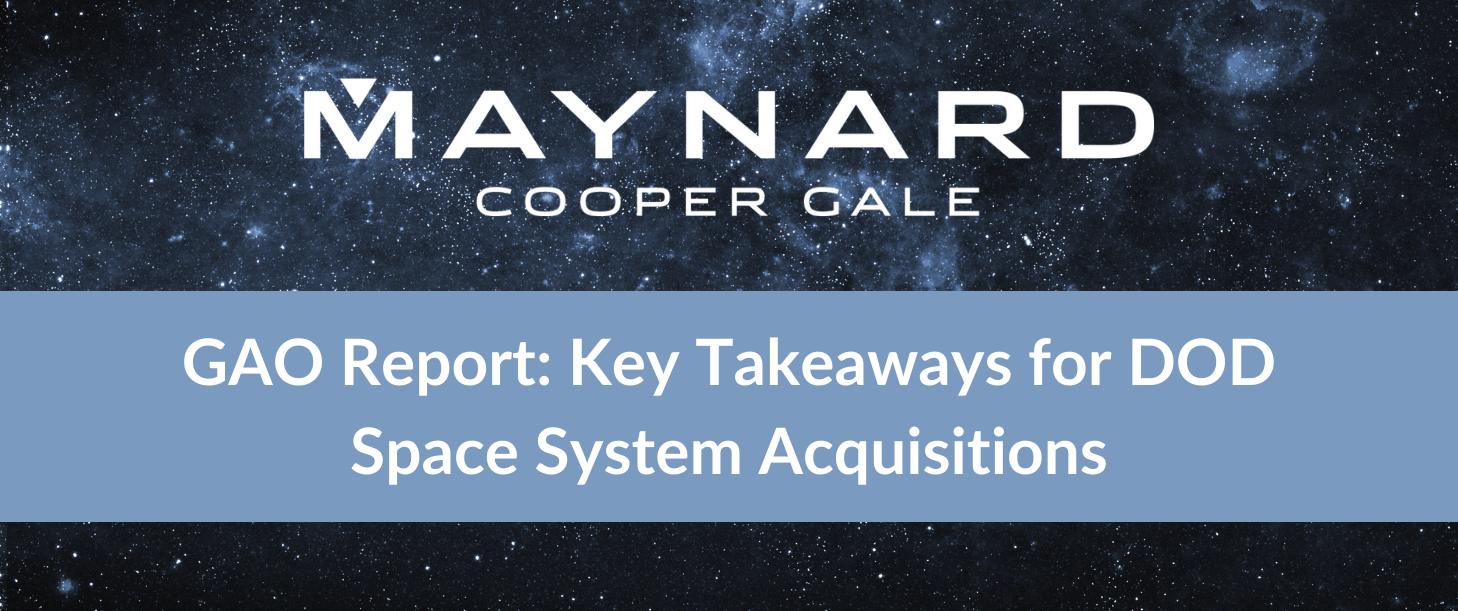 Recently, the U.S. Government Accountability Office ("GAO") issued a report on the continuing challenges and opportunities for the Department of Defense ("DOD") in space acquisitions. GAO's report, which was timely published during the 37th Annual Space Symposium, reflects the current rise of space systems in military and national security operations. The report also unearths challenges and opportunities related to space acquisitions stemming from a new acquisition process, the Space Force, growth in the commercial space industry, and evolving threats in space.
Current Status
In its report, GAO noted that recent space acquisitions follow an acquisition pathway called the "middle tier of acquisition," or MTA. The MTA pathway is intended to be a faster method for developing prototypes and rapid fielding efforts. But, while using the MTA has allowed DOD space programs to cut years of the program schedule, MTA's flexibility has also left a trail of challenges related to proper reporting, monitoring, and oversight. The MTA pathway also has created difficulties for the DOD to track cumulative cost and performance data in certain instances.
In addition, GAO also found that while DOD has made progress standing up a new military branch – the Space Force – more work remains, including completing the realignment of the Space Development Agency under the Space Force sometime later this year. The Space Development Agency is intended to be at the forefront of space acquisitions for the DOD. The massive organizational change related to standing up the Space Force brings additional challenges and opportunities within the space domain.
GAO also is working on (or will be) examining how the commercial industry may support DOD, including projects on:
DOD's plans for contracting for commercial space situational awareness data.
Status of Space Force's Satellite Control Network, including its capacity for conducting satellite operations for current and future satellites, and the extent to which DOD acquisitions, agreements with federal partners, or contracting for satellite control services from commercial providers can address some of DOD's needs.
National Reconnaissance Office's Commercial System Program Office and efforts by the DOD and Intelligence Community elements to license and use commercial imagery and analytics.
Plans for the Near Future
The GAO summarized areas of future challenges and opportunities in DOD space programs, focusing on:
Flexibility with accountability. The DOD and Space Force desire quicker acquisition timelines, adapted to the capabilities being acquired. But the problems experienced in MTA acquisitions highlight the need to develop new frameworks. Several ideas have been proposed and are under review by the GAO, including the adaptive acquisition framework ("AAF") and a new space acquisition framework.
Commercial Sector Growth. As the rise of the commercial space industry has demonstrated new and exciting possibilities, it should be DOD's priority to leverage new technologies and ideas to update its own systems and capabilities.
Space Control Readiness. The evolving threat landscape of the space domain will push the Space Force to remain ready and capable of assessing current threats and responding to new ones. The GAO is actively involved in reviewing DOD response efforts in these areas.
Takeaway
DOD acquisitions for space programs will continue to be at the forefront of its efforts to remain capable and prepared in the space domain, particularly as our adversaries seek to militarize space and target U.S. space-based capabilities. As rightly stated by GAO, "[c]learly, the days of uncontested access to and use of space are behind us, the need for space systems is ever increasing, and the challenges are formidable." So, as the space domain continues to evolve and expand, the DOD – and U.S. intelligence agencies – will continue to rely on the commercial industry to meet their needs, for both existing and future programs. Ultimately, given the nature and speed related to space acquisitions, the space domain will continue to see challenges and opportunities. And, as GAO noted, this will inevitably require careful attention by DOD and oversight by Congress.
-----
Please reach out to a member of Maynard's Government Solutions Group if you have any questions or need assistance.
Attorneys

Mary Ann is an Associate in the Firm's Intellectual Property Practice Group. Her practice focuses on counseling clients in patent and trademark prosecution as well as litigating cases involving patents, trademarks ...
Recent Posts
Authors
Archives