Blog
03.24.2022
"Attorney Doug Jones Discusses with Maynard his presentation Walk Through the Schoolhouse Door"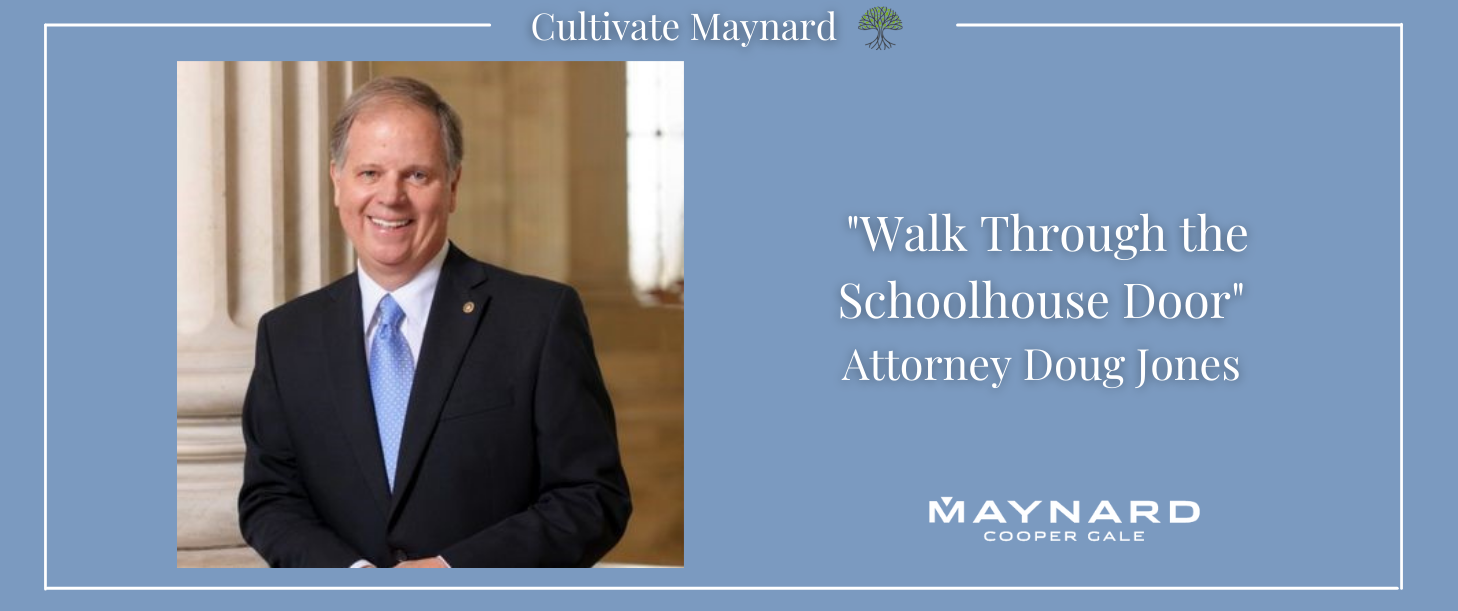 As part of Maynard Nexsen's celebration of Black History Month, Attorney Doug Jones presented "Walk Through the Schoolhouse Door", an account of courage and resilience in the struggle for civil rights and de-segregation. Doug recounted the life and legacy of Vivian Malone Jones, a native of Mobile, Alabama who was "on the right side of Alabama history" as an advocate for integration of schools and for her own admission to the University of Alabama. Despite fierce opposition and threats to her safety, Malone was not deterred. In 1963, when Vivian attempted to register for college classes at the University of Alabama, she was escorted by the national guardsmen. Blocking the entrance to Foster Auditorium was Governor George Wallace whose election promises included blocking the schoolhouse door to stop integration. Doug spoke about her defiant stand, and the courage it too to walk through those doors in 1963. Vivian became the first African American student to graduate from the University of Alabama.
Doug was born in Fairfield, Alabama. He went to the University of Alabama and then on to Cumberland for law school. President Bill Clinton nominated him to the position of United States Attorney for the Northern District of Alabama where he served as U.S. Attorney until June 2001. It was while serving in that position that Senator Jones successfully prosecuted two of the four men responsible for the 1963 bombing of the 16th Street Baptist Church that killed four young girls, finally bringing full justice and closure nearly 40 years after the attack. Along with taking on the Ku Klux Klan, he indicted domestic terrorist Eric Rudolph and prosecuted other criminals who sought to use fear, hatred, and violence to inhibit the rights of others.
In 2017 he won a special election to fill a US Senate seat becoming the first Democrat to be elected from Alabama in 25 years. In the Senate he quickly earned the reputation as a well-regarded and effective legislator. He passed more than two dozen bipartisan bills into law in just three years.
After leaving the Senate in 2021 he joined the Washington DC law firm of Arent Fox and The Center for American Progress. He is currently on leave for the law firm and CAP as he has taken a temporary position with the Biden Administration as the Nominations Advisor for Legislative Affairs. He spoke with Maynard Nexsen in his individual capacity and not on behalf of the Administration.
Recent Posts
Authors
Archives