Looking Ahead to 2022: Overhauling Your MD&A and Other Financial Disclosures
08.09.2021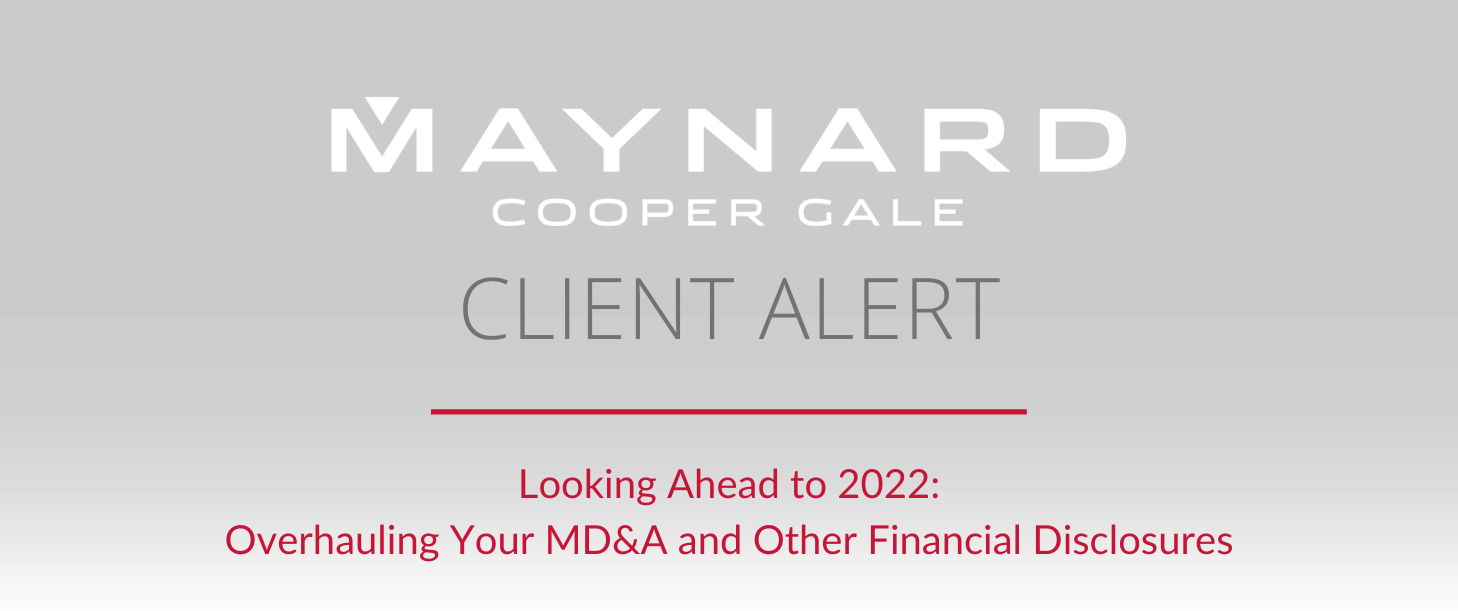 On November 19, 2020, the Securities and Exchange Commission ("SEC") adopted amendments to Items 301 (Selected Financial Data), 302 (Supplemental Financial Data) and 303 (Management's Discussion and Analysis of Financial Condition and Results of Operations ("MD&A")) of Regulation S-K.[1] The aim of these amendments is to promote the principles-based nature of MD&A disclosures and, specifically, "to eliminate duplicative disclosures and enhance MD&A disclosures for the benefit of investors, while simplifying compliance efforts for registrants."
The amendments became effective on February 10, 2021. While registrants are required to comply with the new rules beginning with their first fiscal year ending on or after August 9, 2021 (meaning that a registrant with a December 31st fiscal year end will first have to comply with the amended rule in its annual report for the year ending December 31, 2021), registrants have been permitted to early adopt the amended rules at any time after the effective date (on an item-by-item basis), s­­­o long as they provide disclosure responsive to an amended item in its entirety.[2]
Registrants will also be required to provide disclosure pursuant to the amended rules in any registration statement or prospectus that on its initial filing date is required to contain financial statements for a period beginning on or after the mandatory compliance date. For public companies that have not already early adopted the amended rules and intend to implement them in connection with the next annual report on Form 10-K, now is a good time to think about the new required MD&A and other disclosures.
To read more and see a table summarizing the key amendments to Regulation S-K to provide you with assistance as you begin to look ahead to the 2022 reporting season, click here.
For additional information about any of the above developments, or to discuss any questions that you may have, please contact a member of Maynard's Public Company Advisory Group.
---
[1] See SEC Release No. 33-10890 (Nov. 19, 2020), available at https://www.sec.gov/rules/final/2020/33-10890.pdf.
[2] For example, an issuer may now cease to provide disclosure pursuant to former Item 301, and may voluntarily provide disclosure pursuant to amended Item 303 before the mandatory compliance date. If it does so, however, it must (i) provide disclosure pursuant to each provision of amended Item 303 in its entirety and (ii) adhere to the amended rule in any applicable filings going forward.
---
This Client Alert is for informational purposes only and should not be construed as legal advice. The information in this Client Alert is not intended to create and does not create an attorney-client relationship.
About Maynard Nexsen
Maynard Nexsen is a full-service law firm with more than 550 attorneys in 24 offices from coast to coast across the United States. Maynard Nexsen formed in 2023 when two successful, client-centered firms combined to form a powerful national team. Maynard Nexsen's list of clients spans a wide range of industry sectors and includes both public and private companies.
Related Capabilities
Media Contact
Tina Emerson