Blog
05.02.2022
Maynard Wins $25 Million in Novel Crypto-Pay Damage Suit for Biometric Software Client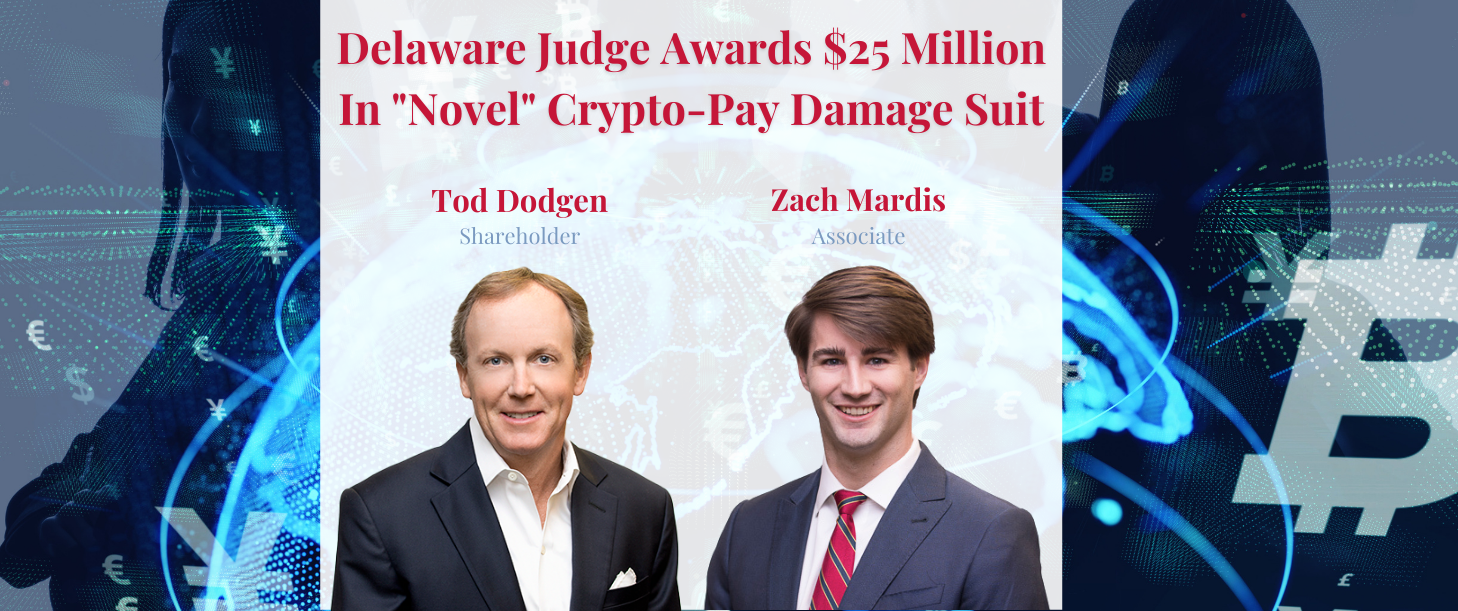 In an issue of first impression, Delaware Superior Court Judge Paul R. Wallace awarded over $25 million in damages to Diamond Fortress Technologies, Inc. ("DFT") and its CEO, Charles Hatcher, II, in a breach-of-contract action involving alleged failures to deliver cryptocurrency. DFT and Hatcher are represented by Walter A. "Tod" Dodgen and Zachary P. "Zach" Mardis of Maynard Nexsen P.C. and Kurt M. Heyman of Heyman Enerio Gattuso & Hirzel LLP.
EverID, Inc. retained Maynard Nexsen's clients for their assistance in developing EverID's cryptocurrency platform and mobile application. Their agreements collectively required EverID to distribute 12.5 million "ID Tokens" in regular intervals upon an Initial Coin Offering, or ICO. DFT and Hatcher claimed in the suit that EverID was in "total breach" of the agreements for failing to distribute any of the tokens as required. DFT and Hatcher sought damages representing the value of all 12.5 million tokens.
Framing the damages issue as a "novel" issue in Delaware, Judge Wallace adopted the valuation advanced by Maynard, recognizing that:
"The classification and valuation of cryptocurrency, as well as the calculation of damages resulting from the breach of a cryptocurrency-paid contract are novel matters to Delaware. . . . [T]the lack of regulatory policing of cryptocurrency is not without its problems and is on full display in the instant litigation."
As the court's opinion indicates, fashioning the property remedy was complicated by the "volatile and unregulated nature of cryptocurrency," together with distribution of the tokens over an extended period of time. The court found that the damages calculation involved a two-step process. First, the court needed a "reliable cryptocurrency valuation source to ensure the proper input of values." For this step, the court referred to CoinMarketCap, an authoritative source relied upon by general financial publications, in figuring the award. Second, the court needed to decide the proper method of calculating damages. Consistent with DFT and Hatcher's arguments, the court ultimately found that the case was analogous to "failure to deliver securities" actions. In those cases, Delaware courts generally measure damages by using "the highest market price of the security within a reasonable time of a plaintiff's discovery of the breach."
Using this damages model, the court awarded DFT and Hatcher over $25 million, collectively, representing damages associated with the ID Tokens owed to DFT and Hatcher.
The case is Diamond Fortress Technologies, Inc. and Charles Hatcher, II v. EverID, Inc., case number N21C-05-048, in the Superior Court of the State of Delaware. (as referenced in a recent article by Law360)
Attorneys

Tod is a veteran trial lawyer who represents companies and stakeholders involved in complex business disputes. He has appeared as lead counsel in courts across the country and various international tribunals and has a proven track ...
Recent Posts
Authors
Archives